United Kingdom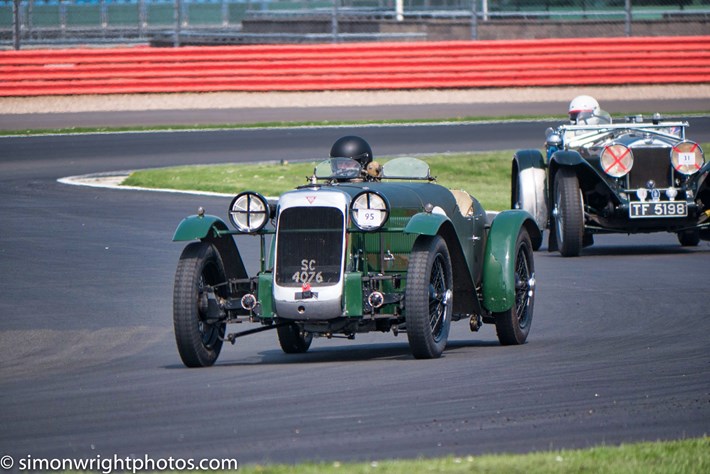 The first round of the VSCC Formula Vintage championship took place on the National circuit at Silverstone over the weekend of the 21st and 22nd of April.
As usual there were lots of vintage cars on display around the paddock and members had been encouraged to come in their vintage car and park it in the display area behind the paddock.
After morning practice, the event started with a high speed trial before lunch.  
The afternoon started with the Fox & Nicholl Trophy Race for standard and modified pre-war sports cars and was won by Richard Pilkington in his 1937/38 Talbot T26 SS. Chris Chilcott in a 1926/30 Frazer Nash Fast Tourer took the award for 1st Vintage.
Adding a slightly more modern flavour to the meeting were a pair of  AR Motorsport Morgan Challenge races. These invited races always provide exciting action with Philip Goddard in a Morgan Plus 8 winning both races.
The All-Comers scratch race for Pre-War cars (VSCC set 5) saw James Baxter in the 193/35 Riley ERA take a good win by over six seconds ahead of Nicholas Topliss in the 1935 ERA R4A, both lapping the rest of the field. The other class winners were Richard Hudson in a Bentley 3/4 1/2 litre and Mark Elder in an Austin Sports Special, while the winner on handicap was Ian Standing in a 1935 Riley TT Sprite.
A short 5 lap All-Comers Handicap race for Pre-War cars (VSCC Set 6) saw David Seber win in his 1934 Wolseley Hornet Special.
Another pair of invited races were for HGPCA Pre-1966 Grand Prix Cars. Barry Cannell  took both the wins in his Brabham Bt11A from Andy Middlehurst in the iconic Lotus 25 R4. Mention should be given to Rod Jolley who was pushing his Cooper T45/51 so hard he was lifting a front wheel quite high in the air on most corners.
The Silverstone Trophy for Special Pre-War sports cars had such famous names as Aston Martin, MG and Bentley lined up against Alvis, Riley, Frazer Nash, HRG and Lagonda. The easy victor was Ruediger Friedrichs in his 1932/35 Alvis Firefly. The winner on handicap was 5th placed Mark Gillies in his 1936 Aston Martin Speed model.
A special race for many was the Freddie Giles Memorial race for Frazer Nash cars, built between 1922 to 1957, first by Frazer Nash Limited, then by AFN Limited. All the pre war cars have a unique multi-chain transmission. The race was won by Julian Grimwade in a 1934 Frazer Nash Single seat racing car.
A short 5 lap All-Comer Handicap race for pre-war cars (VSCC Set 6) saw James Whitmore in a Riley 12/4 Special take a very close win by just 0.42 of a second ahead of Jack Bond in a 1914/18 Vauxhall A/D Type.
Sunday started with the Standard & Modified pre-war sports cars (VSCC Set 3) race which was won by Edward Williams in a Frazer Nash Super Sports.
The Patrick Lindsay Memorial & Amschel Rothschild Trophies race was an exciting race with Frederick Harper in the 1957 Kurtis Indy-Roadster take a win for the Amschel Rothschild Trophy by just 0.73 of a second ahead of Gareth Burnett in the Alta 2 litre. Burnett took the Patrick Lindsey Memorial Trophy. The handicap winner was Mark Gilles in ERA R3A in 5th place overall.
The 1950s Sports Racing Cars race saw Charlie Martin take a dominant win by over 32 seconds in his Lotus 15. The first Pre-1956 car and first on handicap was 6th placed Ruediger Friedrichs in a Jaguar C Type.
Another short 5 lap All-Comers Handicap race for pre-war cars (VSCC set 6) followed with Douglas Martin in the Hillegass Sprint Car take a very close win by just 0.29 of a second ahead of Heinz Stamm in his Aston Martin Speed model.
The GP Italia and Lanchester Trophies race was a fifteen minute race which gave Robin Tuluie a win in a 1929 Riley Menasco Pirate. Tim Llewellyn in a Bentley 3/8 2 str finished 2nd and was the winner of the Stanley Mann Cup. Winner of the GP Italia Trophy was 3rd placed Julian Majzub in a Bugatti Type 35B. Handicap winner was Patrick Blakeney-Edwards in his Frazer Nash Super Sports.
Switching straight to a HWM which he shared with M Hunt, Patrick Blakeney-Edwards then won the Tom Cole Trophy race for 1950s sports cars. They  narrowly beat Richard Wilson in a Maserati 250S by just 0.22 of a second, while 4th placed Stephen Bond in a Lister Flat Iron was the handicap winner.
The final race of the weekend was a final ten lap All-Comers Scratch race for pre-war cars (VSCC set 5) which saw Julian Grimwade in his Frazer Nash Single seat car take another victory ahead of James Baxter in his Riley ERA by just 0.20 of a second. Dougal Cawley was a worthy handicap winner in GN/Ford Piglet.
By Simon & Janet Wright
About the author: