United Kingdom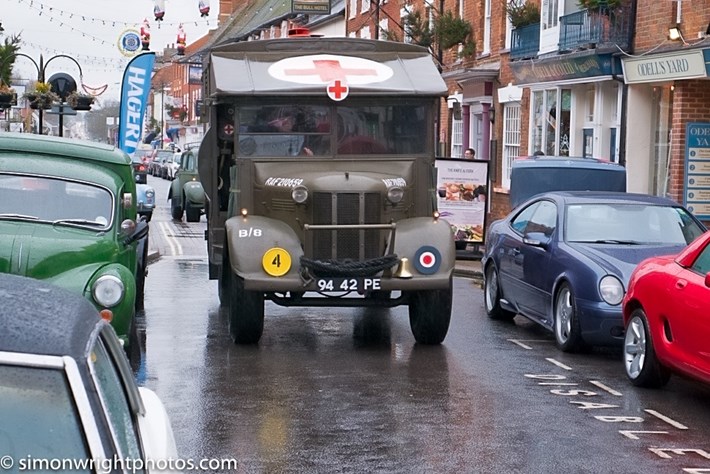 The British are a hardy people. Wet weather on New Years day did not stop vintage and classic car enthusiasts turning out in their hundreds for the Vintage Stony Vintage & Classic Vehicle Festival. Between 10:30 am and 2 pm on New Years day, this small market town near Milton Keynes, turns in to a mecca for the vehicle fans to get out and stretch their legs after the Christmas Festive season break and start the new year in style. Although the poor weather this year did mean that attendance was down on the last couple of years, there were still enough vintage cars to fill the market square, along with the vintage motorcycles. Classic cars then lined the main street in the town, which was closed to normal traffic for the day, and were also in the car park behind the shops.
There was a nice selection of pre-war cars lined up round the Market square, and even on a dull day it was nice to see the rainbow of colours of the cars on show. Henry Ford may have said they can have any colour as long as it's black, but other manufacturers obviously managed to get the rest of the colours. Parked by the entrance to the market square was a damson coloured Vauxhall OD type tourer from the 1920s. Just the other side of the entrance was a red Wolseley sports car. Looking around the market square, there was a Dodge Six saloon in blue with a dark red/purple side panel. Just behind the Dodge was a grey Lagonda saloon. There was an immaculate two tone green MG saloon, a two tone blue Delage and just to prove that Henry Ford didn't always have his own way, there was a bright red 1926 Ford Model T Tudor saloon.
Leaving market square and walking round the corner to the main street, there was an unusual Heinkel Trojan Bubble car at the start of the line up of classic cars. This was parted next to a 1970 Jaguar XJ saloon which was probably 3 times as long as the bubble car. There was great variety on display in the main street, including a couple of rally cars, a Saab 96 and the ever popular Ford Escort Mk 1 and Mk 2. There were various American muscle cars including the ever popular Ford Mustang and Chevrolet Camaro, but the most impressive was a replica of the Sam Posey American racing Dodge Challenger in an eye catching lime green. More unusual was the 1959 Edsel Ranger 2 door sedan in sky blue with a white roof. Only a total of just under 45,000 were built of this model in American and Canada.
It was not just American muscle cars on show, with most of the British manufacturers also represented. British Leyland had Mini, 1100 and MG B models on show, Triumph, Jaguar and Rover were represented along with a Ford Cortina, several Sunbeam and Hillman models. Moving away from the main street, there were even more classic cars on display on the car park behind the shops. In here were a few hidden gems such as an immaculate Honda NSX which looked very low next to the 1955 5.3 litre Chevrolet 210 hot rod. Vauxhall, from nearby Luton, were well represented with a Velox, Cresta and a Viva all parked together. It is rare these days to see a Vauxhall Chevette HSR droop snoot on the road, but here we had two together, both silver with the red coach lines down the side. Matching them for being eye catching was a black 1978 Pontiac Trans Am with the fantastic gold fire bird painted on the bonnet.
Many other makes were on show, with cars from Volkswagen, Alfa Romeo, Datsun, Morgan, Renault and Porsche plus even very rare models like the Gordon Keeble, of which only 100 were built between 1964 and 1967. It just goes to show, whatever the weather, the show must go on.
By Simon & Janet Wright.