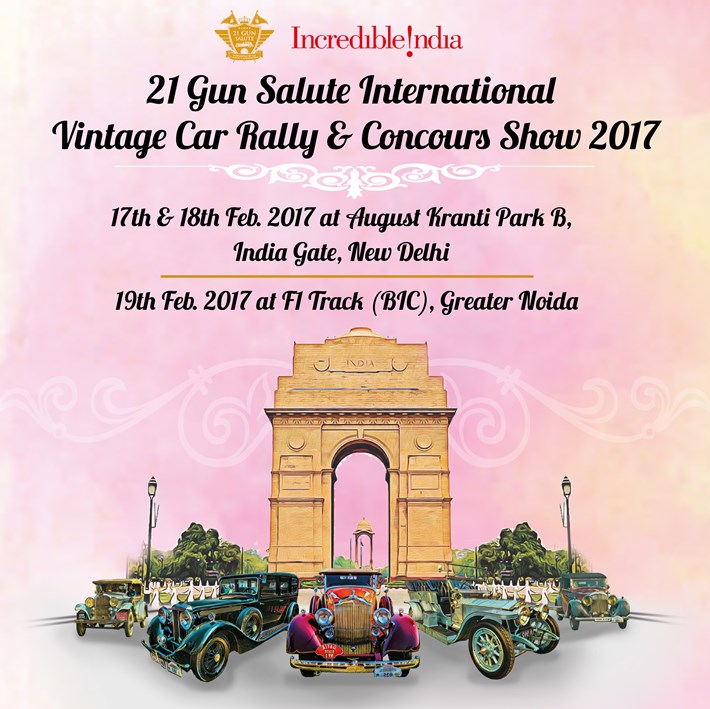 The vintages and the classics remain extraordinary!
100s of such magnificent cars had sent their most beautiful sirens to the glorious historic setting at the India Gate, New Delhi
The 21 Gun Salute International Vintage Car Rally & Concours Show, held on 17th, 18th and 19th February 2017 has set an impressive precedent with thousands of motoring enthusiasts and car lovers attending to see hundreds of the most valuable, soulful and rare vintage & classic cars in the world.
"We are thrilled with the turnout for our seventh edition of the Concours show! We achieved that and built a solid foundation to grow the event in the next edition and beyond," said Mr. Madan Mohan – Founder & Managing Trustee 21 Gun Salute Heritage & Cultural Trust. From concept to the execution, the Concours show was a great success. The international & Indian participants, leading vintage & classic car collectors and enthusiasts from the global motoring brotherhood along with our esteemed jury, highly appreciated Mr. Madan Mohan's single-handed effort in organizing this Concours show that aims at taking India forward on the global heritage motoring map.
This event was a three-day extravaganza, packed with fun, cultural celebrations and motoring where car enthusiasts could see the cars they love, meet the celebrities from the global motoring fraternity they follow, and race at the Buddh International Circuit, Formula One Race Track while enjoying the magnificent ambiance of the historic India Gate. This truly unique event, where several vintage car owners from various parts of the country were present, also attracted global participation along with 'Maharaja Cars' that were a major attraction at the show field. Vintage cars & Indian culture are a perfect match, creating an era of supremacy. Significantly, both topped the list of priorities, when Mr. Madan Mohan envisioned this event.
The show's activities included a ribbon cutting (opening ceremony) by His Excellency Alexandre Ziegler Ambassador of France to India and Mr. Vinod Zutshi, Secretary, Ministry of Tourism, Govt of India; the India Gate (August Kranti Grounds) showcasing breath-taking cars lined up, narrating the history of automobile. More than 100 car enthusiasts and 20 bikes collectors displayed their finest restorations & preservation and the rarest automotive greats received the top honors. One of the 21 ever made, 1967 Rolls-Royce, Phantom V won the Concours d'Elegance - European Post-War Sedan award and the very rare 1912 Rolls Royce Silver Ghost, U.K. won the Concours d'Elegance - Incredible India Award (Best of Show - International), respectively.
There were American muscle cars including the ever popular Ford Mustang and Edsel, then there were other American cars like the 1936 Cord die 810, 1930 Stutz, 1939 Pierce Arrow, the 1959 Chevrolet Parkwood Estate Wagon and the 1948 Packard Sedan along with magnificent European cars like the 1933 Minerva 8 AL, the 1939 Delahaye 135, 1928 Rolls Royce Phantom 1, 1948 Bristol and the 1969 Alfa Romeo 1750 GTV. Not just this, the1914 Benz that has been in the same family for over 100 years now, one of the oldest Mercedes-Benz in India and one of the four cars in the world was also present at the show field along with the 1928 Rolls Royce Phantom 1 that once belonged to the Maharaja Sahib of Bhavnagar.
The 'Best of Show' was awarded to an outstanding and rare 1933 Minerva 8 Type AL. Cadillac and Ford are familiar nameplates, but for the first time the unheralded and rare, one of the 5 existing and 11 ever made, 1939 Delahaye (Figoni et Falaschi) was present at the show field. Many more saloons and convertibles, from the imperial houses of Rolls Royce, Stutz, Buick, Ford, Chevrolet, Austin Martin and Bentley, like the 1922 Moon, 1927 Lanchester, and 1933 Cadillac V12 7 Passenger Limousine, fully restored and in excellent mechanical & cosmetic condition participated in this world-class motoring event.
Building on its success, since the historic day in 2011, not only has this global calendar staple grown big but the 7th edition was one of the grandest vintage & classic car events in India.
The event welcomed judges & experts from the USA, UK, France and Germany coming to India. The esteemed jury panel from around the world included Christian H. (Chris) Kramer - a classic car historian, value appraiser, F.I.V.A. Scrutineer & collection advisor, as the chief judge. This year's Concours Show was judged by a panel of internationally famous judges, generating great excitement among Indian collectors. Setting the standard with their appreciation of fine form, exquisite style and exceptional design, best-known arbiters of taste and most knowledgeable collectors of vintage and classic cars. The elite panel of judges included the likes of Adolfo Orsi (His family owned the Maserati Company from 1937 until 1968), James Wood (He has raced cars since 1990), Quirina Louwman (She has been very involved with cars all of her life), Jeremy Jackson Sytner (Creator of an annual London to Monte Carlo luxury madcap motoring adventure – 'The Grand Tour'), Mathias Doutreleau (Founder and Chairman of the Concours d'Elegance Suisse), Matt Stone (An accomplished automotive author & photographer), Wolfgang Blaube (A very famous German Motor Journalist) Patrick Peter (Founder of Peter Auto that is dedicated to historic motor racing), Paul Wood (A car and aircraft enthusiasts from a very early age), Peter Larsen (A chronic gearhead all his life), Gordon Murray (He designed, built and raced his own sports car, the IMG ford, in the National Class in SA during 1967 and 68), Shin Ichi Ekko (Founder and chairman of MASERATI CLUB OF JAPAN), Alexis Delicourt (Expert international automotive, certified and specializes in collection and prestige cars), Francois Melcion (Director General & Organiser, Retromobile Salon), Laurent Heriou (General Director of the French Federation of Vintage Vehicles), James Nicholls (An avid critic who writes on a variety of topics including classic cars, boats and sport for leading international magazines and periodicals.), Claus Müller (author/photographer/publisher of books and international classic car consultant). This year, the jury followed strict ICJAG (icjag.org) judging guidelines and Concours standards, promoting proper preservation and correct restoration; the same are currently being used by a handful International Concours. This year, the jury followed strict ICJAG (icjag.org) judging guidelines and Concours standards, promoting proper preservation and correct restoration; the same are currently being used by a handful International Concours.
A global audience of vintage car enthusiasts and connoisseurs of history indulged into three glorious days of heritage motoring. With the best of weather and a nice selection of handpicked cars lined up at India Gate, obviously offered a great variety of cars on display.
It wouldn't be a car show without some healthy competition. Thus, the third day offered excitement at full throttle with vintage & classics racing at the Formula 1 race track. Honourable General Bipin Rawat, Chief of the Army Staff, Indian Army flagged off the 7th '21 Gun Salute International Vintage Car Rally' and all the automotive greats, present at the show paraded from India Gate, Delhi to Buddh International Circuit, Formula 1 Racing Track, Greater Noida, traversing over 50 kilometres; where the vintage & classic masterpieces took part in the ceremonial & category races that enthralled the spectators.
The 21 Gun Salute Concours Show had a wonderful global audience of motoring enthusiasts who enjoyed high-quality Indian Cultural & Classical entertainment in the backdrop of India's heritage and an iconic display of vintage & classic automotive beauty that made this heritage motoring event, truly extraordinary.