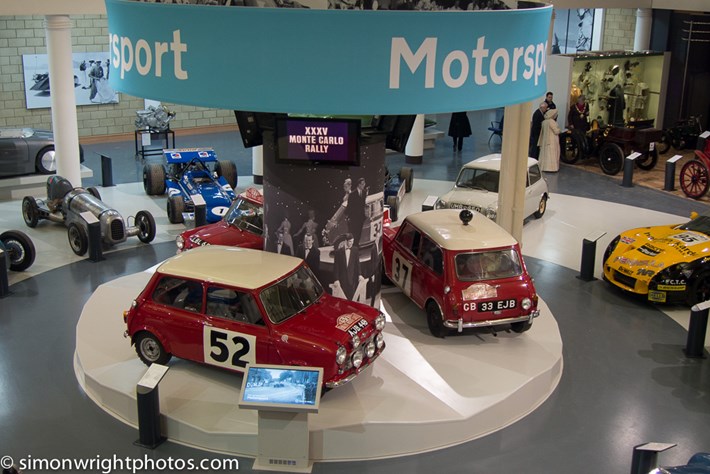 Previously known as the Heritage Motor Centre, the new British Motor Museum at Gaydon opened to the public on Saturday 13fn February 2016, following a £1.1 million refit. It is located near Warwick and Stratford upon Avon in the heart of England. In addition to the redesigned main museum, there is now an additional two storey building which houses the reserve collections of Jaguar Heritage Trust and the British Motor Industry Heritage Trust (BMIHT), with an additional 250 vehicles on display in this new building. There is also a workshop with six car ramp hoists, where the public will be able to see cars being restored and maintained.
The museum was officially unveiled on Friday 12th at a private preview event by the Rt. Hon. Gavin Williamson MP and Bob Dover, the chairman of the BMIHT. The official opening was performed by Julie Tew, the Managing Director of the museum and 8 year old Josh Harden on Saturday 13th at 10am when the public were admitted.
The museum is split in to different themed zones, including Design and Concept, Jaguar, Land Rover, Royal Cars, Motor Sport and Film and TV cars. There is also a Time Line road which runs round the inside of the museum which displays cars in date order since the birth of the British Motor Industry, over 100 years ago. The Concept and Design features several British Leyland prototypes which were never developed, including an Electric car from 1972, the Leyland Crompton Electricar, which could reach 33 mph and travel a distance of 40 miles. The Jaguar display featured some of the famous racing cars from the company, including the Broadspeed Jaguar XJ saloon and the Walkinshaw Jaguar XJ6 and the Le Mans winning Jaguar XJR9. In the motor racing display they had an Austin Healey 3000, a Mini Cooper and a Triumph TR7 to represent rallying, along with Sir Jackie Stewart's March 701 Grand Prix car from 1970. They even have the Back to the Future DeLorean and the FAB 1 Ford Thunderbird from the Thunderbirds film.
With over 400 cars in the main museum and a further 250 in the Collections centre, the museum is well worth a trip.
Tours of both the Museum and the Collections Centre will be available daily and can be booked at no extra charge on arrival, (subject to availability) and all half term family activities are also included in admission: Adults £14, Children £9 (5-16 years) under 5's free, Concessions £12 & Family £39 (2 adults & up to 3 children). Buy one day and get 12 months free if you Gift Aid your entrance.
To find out more information please visit the website at www.britishmotormuseum.co.uk
© Simon & Janet Wright