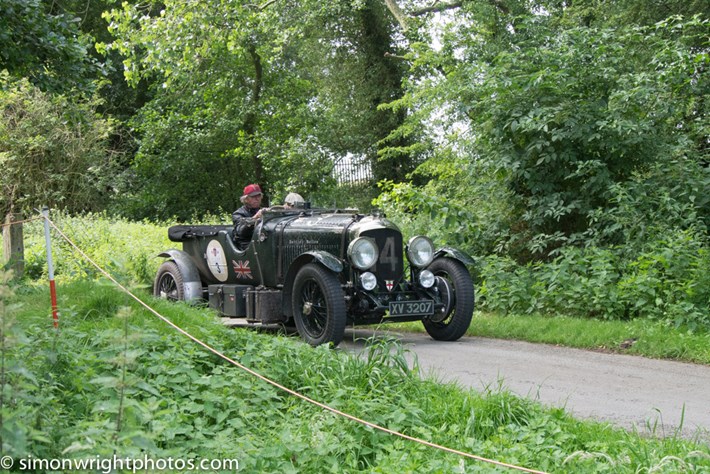 The 2015 Royal Automobile Club 1000 mile Trial, organised by the Historic Endurance Rallying Organisation (HERO), started from the Royal Automobile Club's country home at Woodcote Park in Epson to a drizzly start. The forty one car entry headed to Hook near Hampshire for the first overnight stop. The intense battle for the lead was taken up by William Metcalf and Dan Harrison in their 1927 4 1/2 litre Bentley and eventual winners John Abel and Martyn Taylor in their 1937 Lagonda LG45. This battle for the lead was to rage until a mistake on the Lake Vyrnwy regularity in North Wales on Thursday cost the Bentley team any chance of victory. They arrived at a control 48 seconds early which cost them the lead. Abel and Taylor went on to take their second victory in a row while Metcalf and Harrison finished 2nd. The third spot went to the Arrive and Drive AC 16/80 March Special driven by Paul Crosby and Andy Pullan.
The route took the teams North to Coombe Abbey at Coventry for the second night stop-over, then further north to Chester for the third night with a stop at Chatsworth House for lunch on the way. Thursday saw the teams returning south via Shelsley Walsh Hill Climb to Chateau Impney for the Thursday night stop. The final day on Friday saw the crews heading for Goodwood via lunch at Wilton House. After a couple of tests on Goodwood Hill, the teams returned to Woodcote House for the finish.
The other class winners were Steve and Julia Robertson in an MG PB 4 seat Tourer, Martin and Lesley Neal in an MG TA, Viola Procovio and Jessica Dickson in a Bugatti Type 37A, John Rushton and Jeremy Haylock in their Talbot 105 Alpine and finally James and Andrew Mann in their Lagonda M45 T5 Body.
Their were several special awards as follows:
Team Award went to Two Wrongs Don't Make A Right (Or Left) which consisted of the Bentley Derby Special of Charles Graves and Ron Palmer, the Lagonda LG45 of winners John Abel and Martyn Taylor and the Bentley 4 1/4 of Stuart Anderson and Richard Lamely.
The mixed crew award went to Martin and Lesley Neal in their MG TA.
The Spirit of the Rally Award went to Rob and Jeanne Jeurissen in their Bentley Derby Special.
Against All Odds Award went to Gordon McCulloch and Peter Wallman in their Fraser Nash "Shelsley' TT Replica.
The Best Dressed Crew went to Tony and Pauline Mather in the Citroen Traction Avant and finally
the Concours d'Elegance went to the Alvis Speed 20 SA of Jose and Manuel Romao de Sousa.
© Simon & Janet Wright.