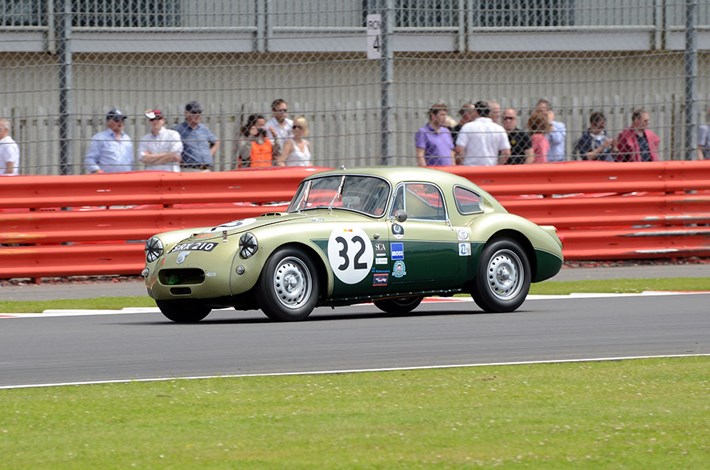 This years Classic was held in beautiful sunshine, the first decent weather in the UK for some time. The Worlds biggest motor racing festival had 24 races over the weekend featuring more than 1000 race entries covering the whole range of motor racing. Everything from Formula 1, Front engined pre-61, rear engined pre 66 and Grand Prix Masters, to Saloons under 2 litre and Touring cars 1970-2000, GT and Le Mans cars, World Sport car Masters and Group C. As well as the track activity there was a vast collection of car clubs displaying cars in the interior of the circuit. With several major celebrations this year, a world record 60 Ferrari F40s took to the track for a parade on Sunday to mark the 25th birthday of this supercar, as well as parades by BMW Z1 owners, Lotus Elan, MGB and AC Cobra owners.
The Daily Express Trophy was re-introduced for the Grand Prix Masters and Bill Coombs in a Tyrrell took victory in both races, though the first race had allowed young Michael Lyons to secure a large lead in his Hesketh before mechanical failure caused his retirement. Michael Lyons did win the first of the two Peter Gethin Trophy races for F5000 and F2 cars in his Lola T400 but again retired from the second race allowing Simon Hadfield to take victory in his Trojan T101.
The Group C sports cars had a large entry and ran their first race in to the dusk on Saturday evening. Gareth Evans driving a fantastic Mercedes C9 managed to win both races after a fantastic battle with the Porsche 962 of Herve Regout and the Lancia LC2 of Nicolas Minassian.
The World Sports Car Masters race was another tight finish with Andrew Smith and Oliver Bryant in a Lola T70 finishing just 0.802 seconds ahead of the Ferrari 512 of Paul Knapfield and Martin Stretton after 50 minutes of racing and a driver change pitstop.
Full results can be obtained from the HSCC web site at www.hscc.org.uk
© Simon and Janet Wright