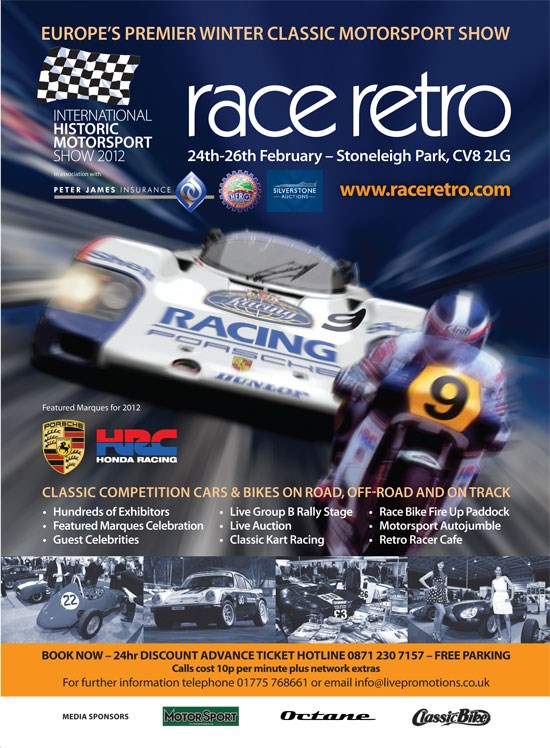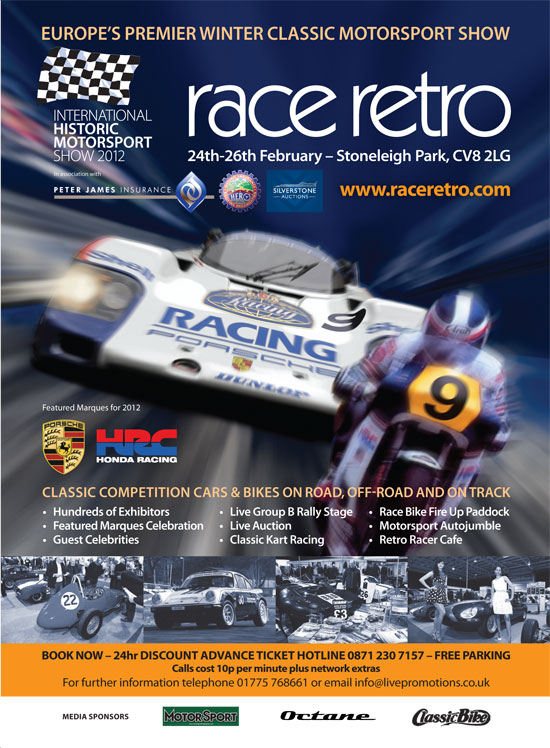 Europe's Premier Winter Classic motorsport show was held at Stoneleigh Park, near Coventry in England over the weekend of the 24th to the 26th of February 2012. Race Retro is the perfect mix of static exhibition and live action for the Classic motor sport fan. This year, the show celebrated the racing and rallying history of Porsche and racing motorcycles of Honda.
Porsche were very prominent in the exhibition Halls with both a Martini and Gulf Porsche 908/3 on display along with Sir Stirling Moss's Porsche RS61. In another part of the hall was the works Porsche 962 of Stuck, Ludwig and Bell in the Red, Yellow and Black colour scheme of Shell and Dunlop which raced at Le Mans in 1988 and finished 2nd behind the TWR Jaguar. Celebrating 30 years of Group C racing saw the prototype Rothmans Porsche 956C-001 of Ickx and Bell on a stand next to the Joest Racing Porsche 962 which finished 3rd at the 1988 Le Mans 24 hours driven by Jelinski,Winter and Dickens. The Rothmans Porsche 956C made its debut at Silverstone in 1982.
The Porsche theme continued on the live Rally stage with a couple of rally Porsche 911 models in action. The star of the live rally stage was however, an orange Porsche 914-6 belonging to pop star Jay Kay and being driven by it's original driver Bjorn Waldegard. And finally on the Porsche theme, if you had enough money you could bid on the gorgeous 1976 Porsche 934 'Jagermeister' race car in the on-site Auction.
There were many other interesting cars on display throughout the show - a Yardley BRM P153 Grand Prix car from 1970, a a pair of racing MGB sports cars in the main entrance lobby to celebrate 50 years of the MGB, There was a good selection of Honda racing motorcycles on display in Hall 3.
The live Rally stage had two runs on Saturday and a further two runs on the Sunday to show case the powerful Group B rally cars of the early 1980's. There was a fantastic selection of cars giving 'demonstration' runs round the tarmac track, including Audi Quattro, Ford Escort, a pair of Rover SD1's, the Porsche brigade, a pair of Metro 6R4 plus several others. With the sun shining, the drivers drove flat out round the course, getting the tail out on many of the corners, giving the watching fans a treat.
The show was a big success and we look forward to returning again next year.
http://www.raceretro.com/
By Simon & Janet Wright