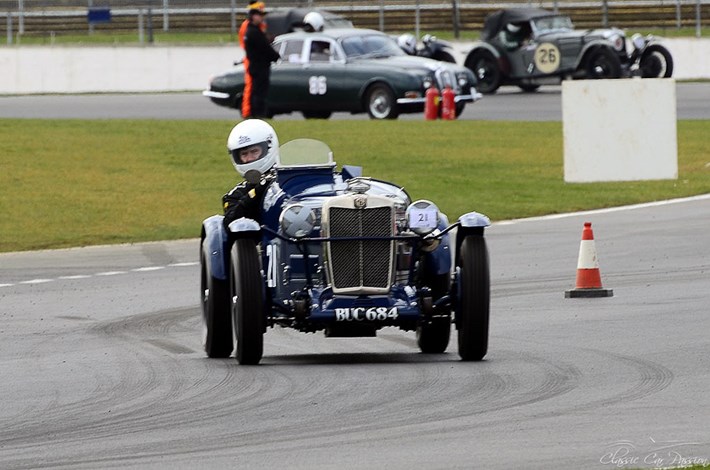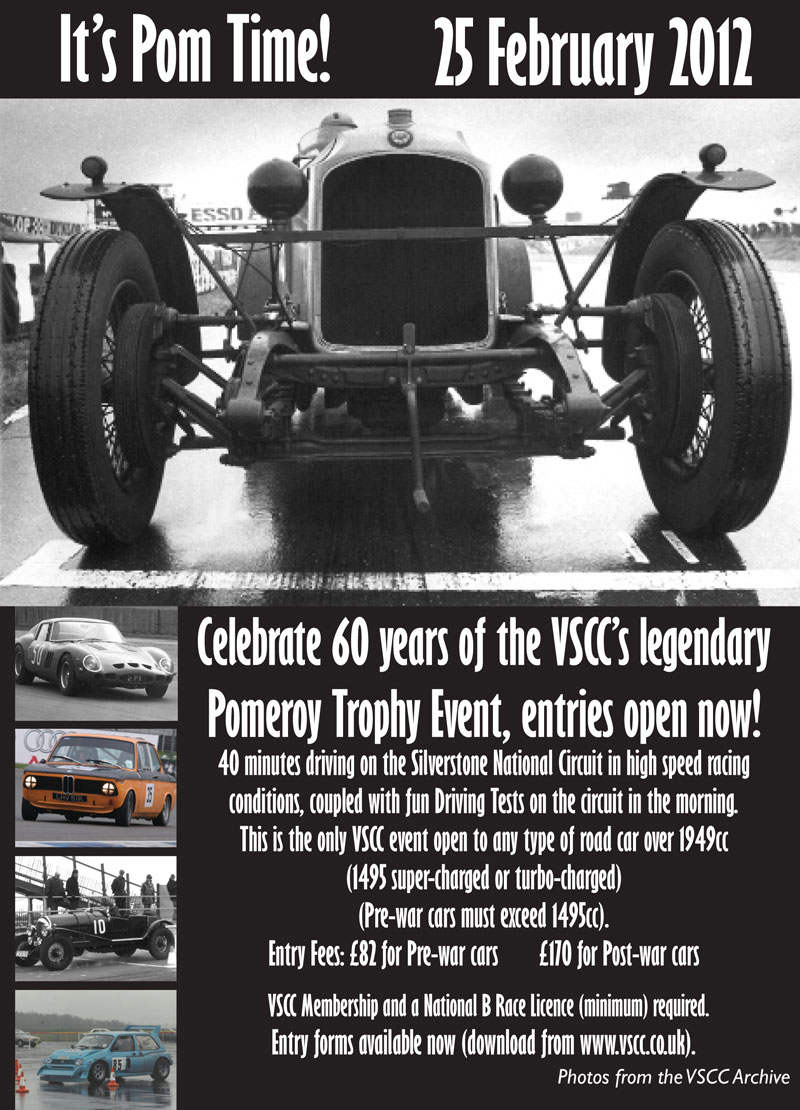 Where in the World can you see cars built 100 years apart competing together in the same event for the same Trophy? The answer is the Pomeroy trophy, organised by the Vintage Sports Car Club (VSCC). This year was the 60th Anniversary of this great event and it was run at Silverstone over the National circuit on Saturday 25th February 2012. The massive entry spanned a century of motoring history with a 2011 Audi R8 driven by Justin Maeers competing against a 1911 Scat Racer driven by Andrew Howe-Davies.
The Pomeroy Trophy was designed to find the best overall Touring Car for the road. The event has remained true to this principle, with the cars having to drive to the circuit, though a checkpoint at Towcester race course, before completing a series of tests and time trials at Silverstone. Penalty points are given if vehicles do not comply with certain rules. The car should have a roof or a hood, which should be up for at least two of the tests. If no hood is fitted or raised, then penalty points are deducted. They must also be able to carry a standard size suitcase in their boot and run on road tyres.
The cars are handicapped to try and ensure that everyone has the same chance of victory. The tests include a slalom course, an acceleration and braking test and a 40 minute high speed trial round the National Circuit at Silverstone. The very large field was split into three groups for the high speed test, placing the more modern supercars in the third group. It is not a race, although each group of cars are all on track at the same time. Each driver is given a target number of laps to complete in 40 minutes.
The weather was kind this year with a cold but sunny day greeting the competitors.
The event proved that the ever popular Ford Escort Mk1 is the ultimate GT car, with Mike Smith winning the Pomeroy Trophy driving his 1970 Escort which he has also used in several Tour Brittania events in the past.
He beat previous Pomeroy trophy winner Dudley Sterry into 2nd place driving a 1939 HRS Sports. Dudley took the Densham Trophy for the best performance by an eligible VSCC Pre-war car. The battle over the century was settled in favour of the 1911 Scat Racer which finished 6 places higher than the new Audi R8.
http://www.vscc.co.uk/vsccweb/events/event.jsp?id=708
by Simon & Janet Wright