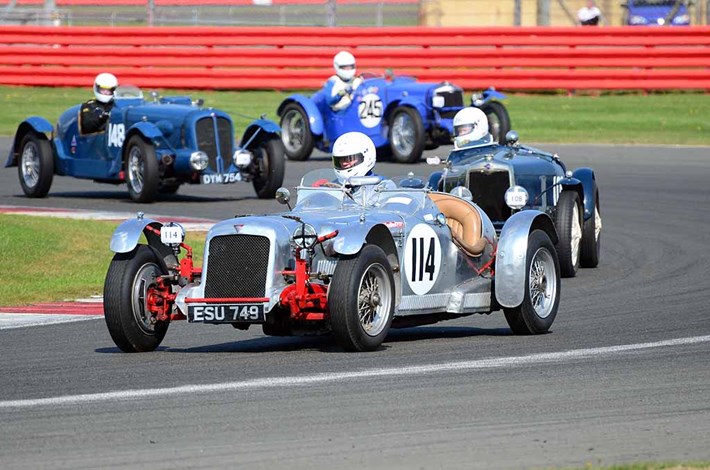 The Vintage Sports Cars new season got off to a great start at Silverstone on Easter Saturday. A warm and sunny day drew out a large crowd of over 6000 spectators to watch 11 races of full grids. With over 200 drivers competing, including drivers from Europe and America, the crowds were treated to close and exciting racing round the National circuit.
First race of the day also provided a victory for a lady racing driver. The 30 minute Regularity Trial see's drivers competing against the clock rather than each other. Each driver has to cover a minimum distance which is calculated before the race, and during the event, they have to make a pit stop, remove a spark plug, move it to a designated place in the pits, then return and re-fit the spark plug before continuing. Holly Mason-Franchitti was first to the flag driving an Aston Martin Ulster LM17
The ladies also did well in the second race, taking 2nd, 3rd and 4th places behind winner Andrew Kellock in his Fiat AC. Jane Metcalfe was 2nd, Jo Blakeney-Edwards was 3rd and Annette Mason was 4th. The Amschel Rothschild and Patrick Lindsey Memorial Trophy race had eight ERAs in the field and despite the best efforts of Michael Steele in a Connaught C Type, the victory went to Mark Gillies in an ERA R3A after Steele ran wide on to the grass at Luffield on the last lap.
During the lunch break and in the paddock there were special displays of the Talbot 105 which celebrates its 80th birthday this year. The GP Italia and Lanchester Trophies race was won by Anthony Howat in his Hispano Delage. The best race of the day was the Silverstone Trophy race for Pre-war sports cars. Justin Maeers took victory by just 0.26 seconds from the Riley 12/4 TT driven by David Pryke. The 1950s Sports Car race saw Tony Bianchi take a comfortable win in the Farrellac Allard.
The Historic Grand Prix Cars Association (HGPCA) held their opening race of the season at the meeting for Pre 1966 Grand Prix cars. Stuart Rolt had the honour of racing the superb Ferguson P99 4WD Grand Prix car in the race, but unfortunately had to retire with mechanical problems. The victory went to John Harper in a Brabham BT4.
http://www.vscc.co.uk/vsccweb/
By Simon & Janet Wright