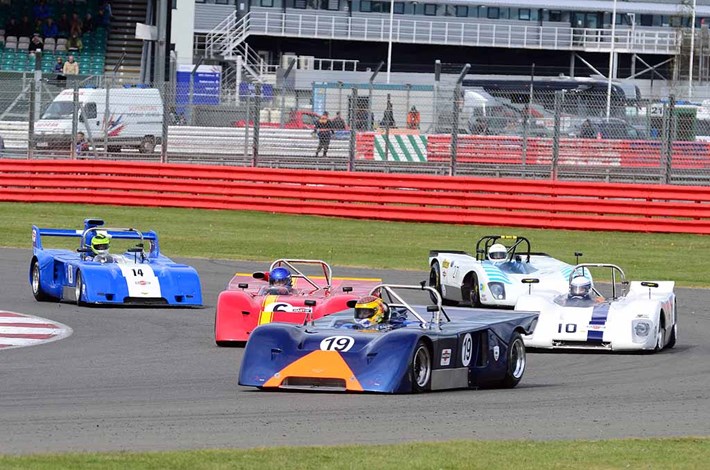 The International Trophy meeting is the first meeting organised by the Historic Sports Car Club (HSCC) to use the new Grand Prix circuit configuration. It also saw the revival of a 2 litre sports car racing series. The Martini Trophy is a tribute to the European open 2 litre sports car championship from the 1970's. The first round at Silverstone drew a great entry, with a wide variety of cars and even several drivers who had competed in the original series.
The new Martini championship now splits the cars into two categories, for open 2 litre sports cars, winged and wingless. Chevron and Lola were again locked in combat but the entry also had cars from March, Osella Abarth, Martin and the fantastic looking Toj. The meeting was dominated by Edward Lovett, driving a Lola T296 to victory in both races. The first race saw a fantastic 4 way battle for the wingless class which was abruptly disrupted when Manfredo Rossi in the winged Abarth Osella slipped back in to the middle of this battle and collided with John Sheldon's Chevron B19 at Becketts, taking them both out of the race. John Sheldon was taken to the Medical Centre for examination, but was released later. The wingless class was eventually won by Sandy Watson driving a Chevron B19 by just over 1/10th of a second from Charlie Kemp in a Lola T210. In the second race the positions were reversed, with Kemp winning b just over 3/10th of a second.
The Derek Bell Trophy for Formula 5000/Formula 2 cars also had two races over the weekend. On a power circuit like Silverstone, it was a surprise that the first race was won by Andrew Smith in his 1600cc Formula Atlantic March 79B. Normal service was restored for the second race with Frank Lyons winning easily in his Formula 5000 Gurney Eagle. Jeremy Wheatley won the Formula 2 class in both races driving the immaculate yellow and blue Surtees TS15.
There was also a very large entry for the Guards Trophy race, so the entry was split in to two separate races, the first for the GT cars and the second was for the Sports Racing cars. Jon Minshaw won the GT race in his E-Type Jaguar and Edward Lovett driving a Chevron B8 lead home a Chevron clean sweep of the top 5 places in the Sports Racing cars race.
The GT & Sports Car cup race drew a very large entry with plenty of European teams making the trip to Silverstone along with an MGB from New Zealand. Jon Minshaw completed a successful day with another victory, this time sharing his car with Martin Stretton.
The photographs are grouped by race MT - Martini Trophy 2 litre Sports cars. GT - GT & Sports Car Cup. CRC - Classic Racing Cars. 70s RS - 70s Road Sports. BDT - Derek Bell Trophy for F5000/F2/F Atlantic.
By Simon & Janet Wright