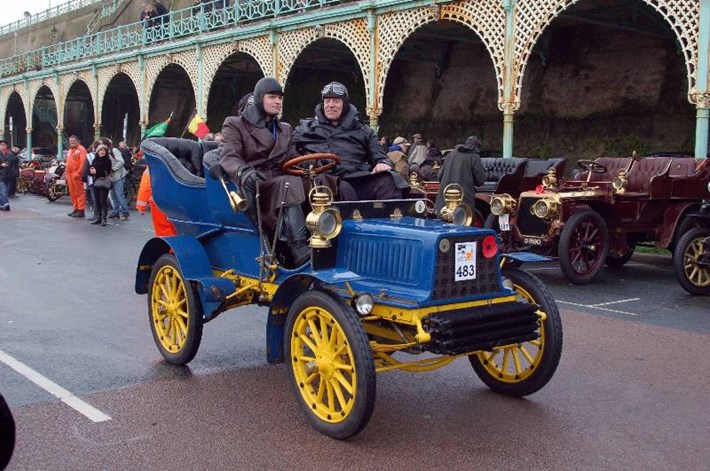 Rain Fails to Dampen Veteran Car Spirits
Despite today's weather forecast for rain and gale force winds, nearly 500 intrepid veteran car owners made the start in Hyde Park for the 60-mile endurance to Brighton for the 2009 London to Brighton Veteran Car Run, sponsored by Tindle Newspapers. After three sunny events, the English weather turned inclement for this year's Run but, despite the driving rain, the participants battled their way to the finish line with a smile on their faces. However by mid afternoon the clouds parted and the sun came out to greet the final cars to cross the line on Brighton seafront.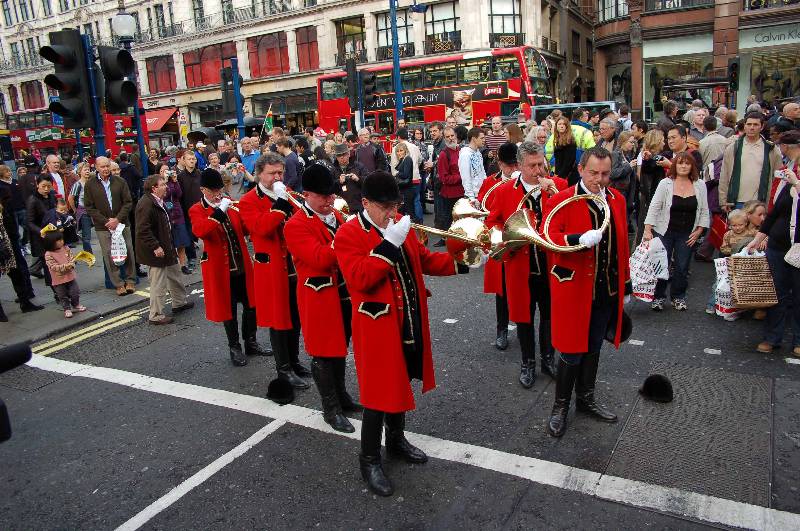 The first car to reach the finish line on Madeira Drive was car 142, a 1902 Oldsmobile, driven by 22-year-old Canadian John Brooks, with his father Robert alongside him in the passenger seat. Despite being in his early twenties, the 2009 event marked John's 17th London to Brighton Veteran Car Run, though not all as a driver. He said at the finish line: "We had a really great run. The terrible weather meant there was less traffic so there were no delays on the roads."
The first six veteran cars to reach Madeira Drive in the minimum three hours from start to finish were -
143 1902 Oldsmobile Curved-dashed Runabout
John Brooks (CDN)
77 1900 Haynes-Apperson Phaeton
Richard Beddall (GB)
191 1902 Renault Single Seater
Jean-Claude Busine (B)
188 1902 Clement Two-seater
Rene Verbeist (B)
620 Panhard et Levassor Rear-entrance Tonneau
Jeremy Stubbs (GB)
185 1902 Darracq Tonneau
Allan White Jnr (GB)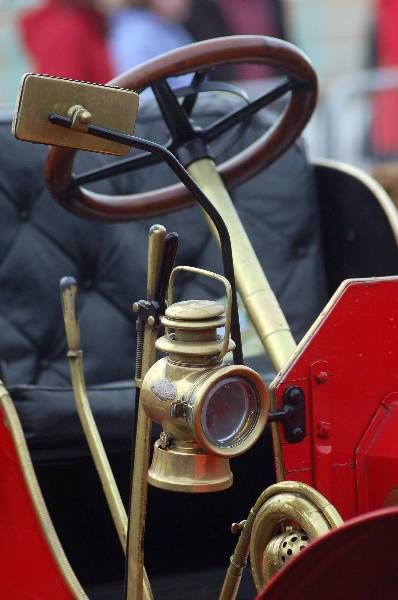 Once again large crowds turned out to cheer the veteran cars along the way and the weather failed to dampen the spirits of participants and spectators alike. The start in Hyde Park and the run out of London was dry but as the first cars approached Croydon the wind picked up and the rain came down. The weather did affect the performance of some of the participating vehicles but despite the conditions 379 reached the finish line before 16:30 to collect their coveted 2009 LBVCR finishers medal.
The 2009 London to Brighton Veteran Car Run weekend began with the LBVCR Auction at Bonhams, with all ten veteran cars on sale being sold to new owners, with a further 200 lots of related automobilia selling to a packed New Bond Street Salesroom.
Attention then turned to the LBVCR International Concours in London's Regent Street. 128 Veteran Cars were on display in Central London and once again over 200,000 visitors were able to get a very close look at some of the rarest vehicles in the world. The cars on display were also competing for several prizes and the awards went to the following -
Concours d'élégance, sponsored by Turtle Wax
152 1902 Panhard et Levassor Rear-entrance Tonneau
Mr John Lawson (GB)
Concours d'équipe
273 1903 Panhard et Levassor Tonneau
Mr Malcolm, Miss Emma, Miss Elizabeth Bishop (GB)
Most Historic Veteran Car
95 1901 De Dion Bouton Vis-à-vis
Mr James Gresham (GB)
Most Original / Unrestored Veteran Car
625 De Dietrich Vis-à-vis
Mr Stephan Musfield (CH)
Judges Special Award
328 1902 Maxim Rear-entrance Tonneau
Mr Ian Strang (GBG)
The Spectators Special Award
614 Petigars Prat Carrabin
Mr Marco Fusco (D)
Best Belgian Manufactured Vehicle
79 Nagant-Gobron Brillie Double Phaeton
Mr Philippe Vercruysse (B)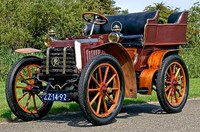 Les résultats de la vente Bonham's organisée lors de l'évènement...
---