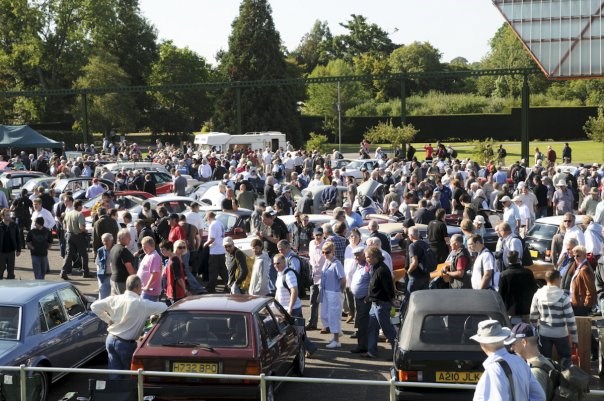 "Beaulieu in September has the magic aura of something special."
Michael Mayr-Harting, Austro Classic Magazine
Warm sunshine all weekend, for this year's International Autojumble, sponsored by Classics Monthly and held in the grounds of the National Motor Museum on the 12th & 13th September, gave the event a real holiday atmosphere. The biggest problem was persuading people at leave at the end of the show!
The popularity of the Autojumble, the largest in Europe, shows no sign of waning and demand for stand spaces increased again this year, resulting in a best ever number of 2,102 stands and 278 cars for sale in the Automart and Dealermart. There were also a record number of overseas exhibitors, coming from as far afield as Eastern Europe, Australia, Japan and North America.
Advance tickets sales were also up this year and large numbers of jumblers were eagerly waiting on both days for the doors to open. Saturday was exceptionally busy, Sunday a little less so and total show numbers were 38,500. This was 2,000 up on 2008 and the best since 1992. Large numbers of foreign visitors attended, particularly from northern Europe and, at times, it was hard to hear any English among the many languages being spoken in the Event fields.
Prices on the stands were, in the main, quite realistic and exhibitors reported brisk selling. The Autojumble lived up to its reputation that 'if you can't find it at Beaulieu, it doesn't exist', with many delighted buyers finally finding an elusive part that they had been searching for. There was also an increase in motorcycle jumble stands carried an excellent range of stock.
On Sunday, Trunk Traders offered amateur jumblers an opportunity to sell their surplus bits from the back of their cars. This feature is poplar with both exhibitors and visitors, all hoping to unearth a rare or unusual find that has perhaps been languishing in the back of someone's garage for many years.
Lord Montagu, making his first appearance since breaking his hip last month, was on hand to congratulate the winner of this year's Best Stand, Frenchman Alain Montpied, maker of bespoke wooden wheels. Alain, is one of the last ten wheelwrights still practising this craft in France and attracted considerable interest as he demonstrated his rare skills at the show. He will receive a free stand at next year's International Autojumble.
In show sponsor Classics Monthly's Restoration Village there were demonstrations of restoration skills including soda blasting and panel beating. There was also a display of readers' classic cars including a Triumph Herald prototype hatchback, which has been lovingly restored after its owner spent 20 years looking for the car.
This year's Automart had the usual eclectic mix of vehicles for sale, from restoration projects such as a 1972 TR6 to a completely restored 1932 Austin 7RN with an asking price of £6,250 and a 1954 Ford Poplar with a price tag of £5,500, restored five years ago. Two early sales were a 1937 MG TA for £13,500 and a 1932 Austin 7 2-seater tourer which sold for £7,000, within ten minutes of the show opening.
Bonhams Head of Collections, Motor Cars UK, Tim Schofield, reported a packed crowd for another buoyant Beaulieu sale with 105 out of 114 vehicles sold. 42% went to overseas buyers, mostly from Europe, with a good proportion of the rest going to South Coast buyers. Tim said "We are keeping up with tradition in our 8th year at this Beaulieu venue with over 90% of vehicles selling and a hammer price of 1.8million."
Highlights of the sale included a 1949 Land Rover Series One 80, bought by the son of its original owner for £19,000 and a 1932 Delage D8 'Faux Cabriolet' Coupé which more than doubled its bottom estimate and went to an overseas buyer for £112,600.
Good weather, the huge variety and mix of vehicles and stands plus enthusiastic purchasers combined to make this year's event both memorable and enjoyable, maintaining its position as the premier Autojumble in Europe.
The next International Autojumble will take place on the 11th and 12th September 2010. See you then!
Click here for other galleries of Patrick Mullan
www.internationalautojumble.co.uk
© photos Beaulieu