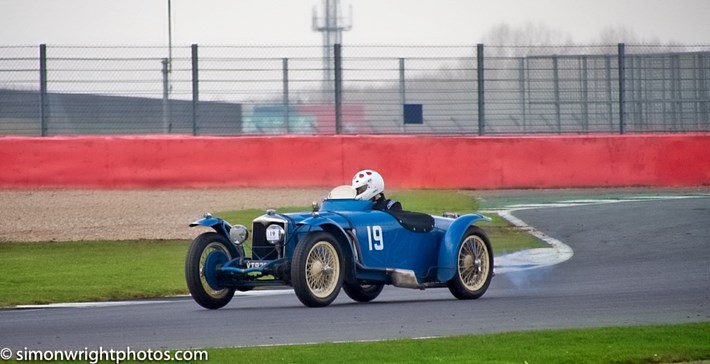 A foggy Silverstone circuit welcomed the massive 144 entrants to this years Pomeroy Trophy meeting. This year the Vintage Sports Car Club were using the full Classic Grand Prix circuit for the first time, with the morning tests carried out on different parts of the circuit, then the afternoon 40 minute high speed trial split the entry into 3 separate events running on the full circuit.
The Pomeroy Trophy runs a series of test to determine the ultimate Grand Tourer, and any road worthy vehicle with an MOT is eligible to take part. In previous years, cars have had to arrive via a check in point at Towcester race course and drive on the public highway from Towcester to Silverstone, but as last year, that rule was not enforced. After a delay of nearly an hour, the event got underway with a slalom test on the National start straight. Once completed, the cars carried on round the circuit to the Hanger straight for the standing 250 metres test followed immediately by the flying 250 metre test. More delays occurred due to problems with the timing equipment on this test. Having crossed the flying finish line, the cars carried on to the Grand Prix pit straight where the finial morning test consisted of a standing start, accelerate to 100 metres, followed by another 100 metres at any speed and then braking to a standstill in a 6 metre box, with timing from the 100 metre mark to when the car stops. If it stops outside the box, they will score no points.
This is the only event on the calendar that mixes vintage, classic and modern cars all in a single handicap event which is designed to give every competition the chance for victory. This year the entry ranged from a 1910 Hupmobile 20 driven by Richard Ellingworth right through to a 2014 Volkswagen Golf driven by Mark Butterworth, with a Chevron B8 sports car potentially the fastest car on the circuit in terms of outright lap speed. There are always unusual vehicles at this event, and this year there were various estate cars including Peter Deffee in a 1956 Morris Minor 1000 and a 1981 Austin Maxi driven by William Lake.
At the end of the day it was David Wylie who won the Pomeroy trophy in his 1974 white and green BMW 2002, while Andrew Smith in his 1926/29 Frazer Nash Super Sports was awarded the Densham Trophy for the best performance by a VSCC eligible pre-war car not winning the main Pomeroy Trophy. The other main award, the Pomeroy Edwardian Trophy was awarded to Miss Rebecca Smith who drove a 1911/12 Vauxhall Prince Henry Replica. There were numerous class winners in such a large field and these included Martin Whitlock in a 1963 MG B, former Pomeroy winner Dudley Sterry in his 1937/39 HRS Sports, Adrian Going in a 1960 Morris Mini, Martin Hunt in a 1952 Frazer Nash Targa Florio, Mrs Pia Bianchi in her MG B and Winston Teague in his Frazer Nash Falcon. The other class winners were Patrick Blakeney-Edwards in an Austin Healey 3000 from 1961, Paul Baker in another 1934 Frazer Nash Sports, Andrew Hall in his 1968 Chevron B8, Theodore Hunt in yet another Frazer Nash TT Rep, Alex Ames in a 2002 Renault Clio Cup car, Tim Kneller in a 1933 Riley TT Sprite and finally Nick Leston at the wheel of a 1973 Porsche 911E.
By Simon & Janet Wright