United Kingdom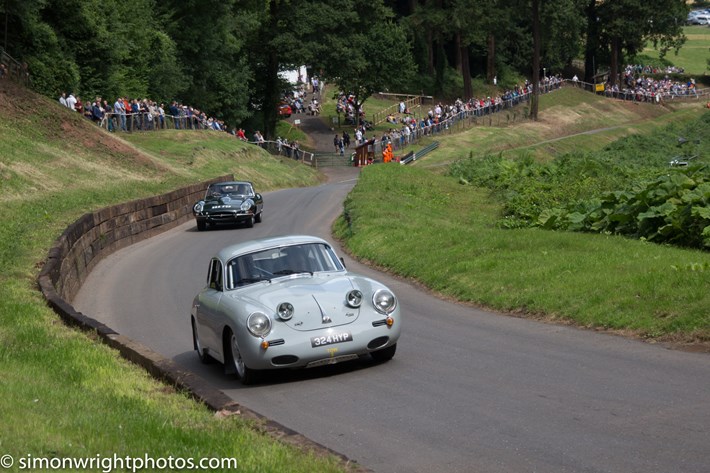 The Classic Nostalgia hill climb took place at Shelsley Walsh in mainly sunny conditions, much to the delight of the large crowd. This year the Midland Automobile Club (MAC) were celebrating Rallying and the Campbells Speed records.
Sir Malcolm Campbell, who held both land and water speed World records, had competed at Shelsley Walsh during the 1930s. His son Donald also held land speed and water speed World records. There was a replica of the Napier Bluebird on display in the paddock, next to a selection of Campbell family road cars. These included a Rolls Royce Phantom 2, Bugatti T37, Porsche 356, Aston Martin Le Mans, Ford V8 Woody, Jaguar XK 150 and a Jaguar E-Type which did all a parade run up the hill over the weekend. There was a display of photographs and memorabilia in the Shed in the paddock and Gina Campbell, daughter of Donald Campbell and Don Wales, Grandson of Malcolm Campbell both made appearances over the weekend.
The Rallying display was a selection of Group A and World Rally Cars (WRC) that included some of the most iconic rally cars from the 1980s and 1990s. The Group A cars included Subaru Impreza 555, Martini Lancia Delta Integrale, BMW M3 Prodrive, and a Rover Vitesse. From the World Rally Championship, there were the Ford Escort Cosworth WRC, the Ford Focus WRC, and the Mitsubishi Lancer WRC04 which was driven by former works rally driver Kristian Sohlberg on Saturday. In the Rally Car class of the hill climb competition, it was the Mitsubishi Lancer WRC04 that took best time both days, Saturday driven by Sohlberg and Sunday by owner Tristan Bailey.
In the hill climb competition, local driver Keith Harris took the Fastest Time of Day on both days with a time of 29.53 seconds on Sunday, driving his Chevron B25 single seater racing car. The Dempster Ensign LNF3 of Fyrth Crosse took 2nd with a 30.99 seconds run. Local Worcester driver Mark Harrison was in to 3rd place in his 'new' Toleman TG280 as previously driven by former Grand Prix driver and President of the BRDC, Derek Warwick.
The fastest sports car was 6th overall Nigel Elliot in his class winning Triumph TR7 V8, who on Sunday just pipped the fastest Rally car, Tristan Bailey in the fantastic Mitsubishi Lancer WRC04.
The other class winners included David Gidden in his Lotus 23, Graham Boulter in his unusual Kudos Coupe, Garry Cox in his Reliant Scimitar Coupe, Malcolm Thorne in the Lotus Buick and Peter Joy in the Lotus Elite.
There was a large number of Austin Healey sports cars taking part over the weekend in the Healeysport Speed Championship. Local driver Richard Mason from Bromyard was victorious on both days in his Austin Healey 3000. The only non Austin Healey in the class was David Lane in his immaculate Jensen Healey, who finished 12th in class.
Another celebration ay the event was the 70th anniversary of Buckler, who started production of their specials in 1947. There was a good selection of different Buckler models on display in the paddock and they had their own class in the hill climb. This was won by Rob Newall in a Buckler DD1with a time of 38.01 seconds, just ahead of Richard Brown in a Buckler Mk 15 with a 38.22 seconds run.
Saturday had seen a round of the Bert Hadley Memorial Championship for the Austin 7, won by Sheffield driver Paul Geering in his Austin 7 Pigsty Special.
The other class winners included Richard Conway driving a Volvo PV 544 and Trevor Shortt in a Reliant Scimitar GT on Saturday. 
There was a Concours D'elegance competition in the car club parking area and that was won by Malcolm Lamb from Little Witley with his 1949 Morgan F Super.
By Simon & Janet Wright.
About the author: