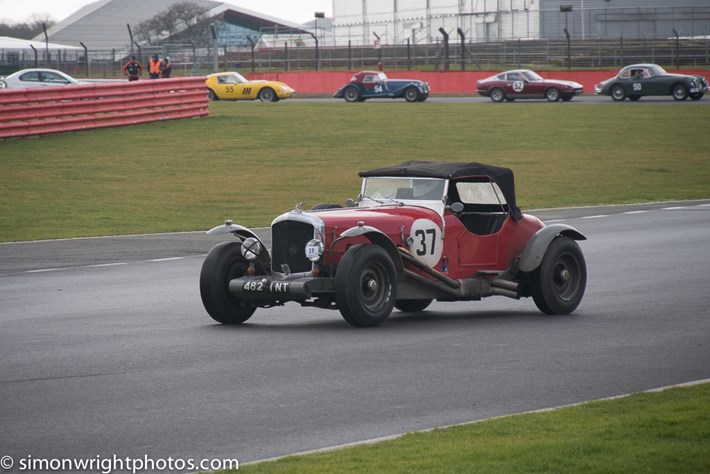 The Vintage Sports Car Club (VSCC) held their annual start of track season Pomeroy trophy meeting at Silverstone on Saturday 21st February 2015. This unique event is the only meeting run by the VSCC that allows members to compete in modern vehicles. The aim of finding the ultimate Grand Touring car through a series of driving tests and requirements has recently proved to be a Frazer Nash walkover with 7 of the last 10 winners driving a Frazer Nash car.
This years entry covered ten decades of motoring with the earliest car being a 1911 Vauxhall Prince Henry replica driven by Bob Towell, while the newest was also the most unusual, a 2011 Ford Ranger Double Cab utility vehicle driven by Julien Slade. There were only 9 Frazer Nash models in the 77 car entry, so the odds were not necessarily in their favour, but you don't need strength in numbers with a Frazer Nash.
After the slalom, acceleration, brake tests and high speed handicap trial, the winner of the Pomeroy trophy for 2015 was... a 1952 Frazer Nash Targa Florio (27) driven by Martin Hunt. Former winner Dudley Sterry in a 1937/39 HRS Sports (17) gave the winner a tough fight for overall victory, finishing just 1.1 points behind, to win the Densham Trophy for the best performance by a pre-war car not winning overall. The Pomeroy Edwardian Trophy went to Bob Towell in his 1911 Vauxhall Prince Henry Replica (1).
© Simon & Janet Wright.