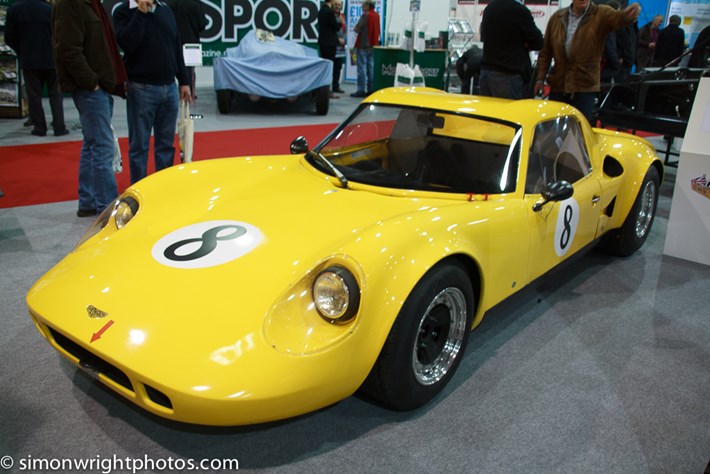 Billed as Europe's premier winter classic motorsport show, Race Retro was held at Stoneleigh Park, near Coventry, in the heart of England over the weekend of 20th to 22nd of February. The show is always warmly received by the motor sport enthusiasts as a must attend event in the middle of a cold and damp winter. It also heralds the impending start of a new season of motorsport, and even managed to provide some thrilling live action with tarmac rally stage within the show ground, where Group B and historic rally cars give high speed demonstrations on both Saturday and Sunday. Unfortunately the Sunday afternoon session had to be cancelled due to heavy rain, but the morning session and both Saturday sessions had run without any problems.
This years stages were opened by former World Rally Champion Ari Vatanen who drove a BMW on Saturday and an Opel Manta on Sunday.
Inside the exhibition halls there was a special celebration display to celebrate 50 years of Chevron and it included the original 1965 Chevron B1, a 1974 Chevron B26 Sports racing car, a Chevron B25 Formula 2 single seater and a Chevron B8 sports car. There was a tribute to rally driver Richard Burns who passed away 10 years ago this year, and in the motorbike area there was a tribute to Mike Hailwood winning the 1965 500cc World Motorcycle Championship on an MV Agusta. There was also a small tribute to the cars of Jack Brabham, with three cars on display and his son David was at the show over the weekend, being interviewed on the Interview stage.
The majority of historic motorsport clubs had stands with a large display from the Historic Sports Car Club (HSCC) with cars representing most of their historic championships. The Vintage Sports Car Cluc (VSCC), the Classic Sports Car Club (CSCC) and the British racing and Sports Car Club (BRSCC) all had at least one car each on their stands and the 750 Motorclub had an interesting display of low cost racing cars on their stand. All forms of historic motorsport are represented, racing, rallying, motorbike racing, stock cars, classic tours and hill climbs were all present.
By Simon & Janet Wright.