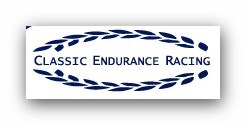 The Classic Endurance Racing series made its annual visit to Silverstone, supporting the European Le Mans Series. Racing at key European circuits during the season, Paul Ricard, Spa , Monza and Silverstone, the series boasts a fantastic entry of sports racing prototypes and GT cars from the 1960's and 70's.
Pole position at Silverstone was taken by the Lola T280 DFV of Carlos Barbot and Jonathan Baker from the Chevron B31 of Russel Busst and David Freeman. However, from the start the powerful Ferrari 712 of Paul Knappfield powered through from the second row of the grid to have the inside line by Copse and led the first three laps. The Lola T280 took the lead on lap 4 and managed to hold on for several laps before the Lola T296 of Wilkins and Catlow took the lead. The Ferrari 712 was back into second place, chasing hard before re-taking the lead on lap 15. The Ferrari did not stop within the correct pit stop window and was penalised 2 laps, but it retired on lap 17. This gave the lead to the Chevron B26 of Gareth Burnett which he maintained until the end, winning by over 12 seconds from Patrice Lafergue in his Lola T298 BMW while Charlie Kemp and Chris Fox took third and a class win in their Lola T210. John Sheldon took second in class P1, finishing 10th overall in his Chevron B16 FVC. The GT2 Class was won by Michael Foveny and Stefan Roitmayer driving a Porsche 935 to 17th overall while Bernard Moreau took the GT1 class in a Porsche 911 RSR 2.8L.
For further information about Classic Endurance Racing, please visit http://www.classicenduranceracing.com/
The Le Mans Series Silverstone 1000kms
The Silverstone race was the final round of the Le Mans Series and also the first round of the new Intercontinental Le Mans Cup. Audi locked out the front row in qualifying, with Alan McNish taking pole position. Peugeot filled the second row, with diesel power taking the first four places on the grid. McNish held the lead from the start, but got in to a spirited battle with fellow Brit Anthony Davidson in the number 1 Peugeot. At one point Davidson dived up the inside of McNish at Brooklands and the pair drove all round Luffield side by side before McNish eased back ahead through Woodcote. Davidson finally grabbed the lead passing the new pits complex in to the new abbey bend. McNish retired the Audi leaving Peugeot with a comfortable race. Peugeot took a 1-2 victory after the 1000kms, with the second Audi claiming the final place on the podium. This gave Peugeot the Le Mans series title for 2010.
Results
1st N Minassian/A Davidson Peugeot 908 HDi
2nd N Lapierre/ S Sarrazin Peugeot 908 HDi
3rd T Bernard/D Capello Audi R15 TDi
For further information please visit http://www.lemans-series.com/
Source et texte: Simon Wright and Janet Wright