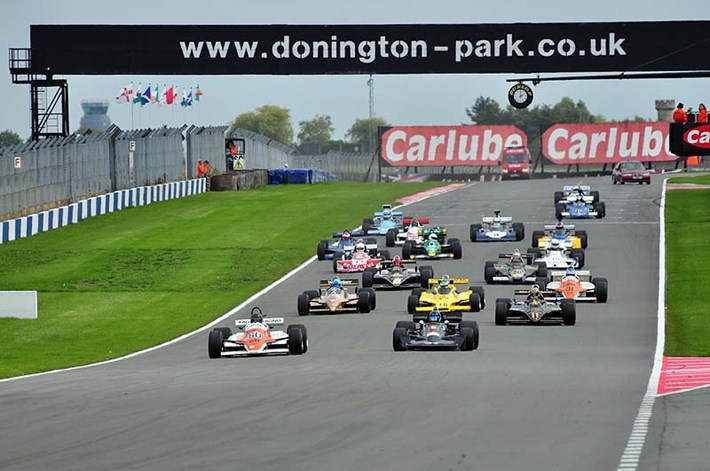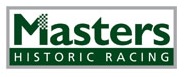 After nearly 12 months absence from the racing scene, Donington Park re-opened with the Masters Festival of Historic racing over the weekend of the 3rd to the 5th of September. With a slightly revised layout, the chicane from the main straight on to the start line straight has moved back about 100 metres and the chicane is much flatter than the previous chicane, which means a longer start line straight, giving the cars more speed in to Redgate corner.
Featuring Grand Prix Masters, World Sports Car Masters, Interseries Revival, Saloons and GTs, the meeting was a fitting tribute to all forms of car racing which has taken place at Donington Park since it was re-opened by Tom Wheatcroft in 1977. At the original opening Tom Wheatcroft hitched a ride on the side pod of the latest Grand Prix car of the period, a JPS Lotus and waved to the crowd. At this re-opening his son Kevin also sat on the side pod of a JPS Lotus and rode down the start straight and pit lane, waving to the crowds.
The meeting also saw demonstration runs by some of the extensive Donington Collection museum vehicles and other selected vehicles, including some of the Special Saloons which ran at the first meeting in 1977. Kevin Wheatcroft drove the 1953 Ferrari 500 of Alberto Ascari and another rarity demonstrated was the 1951 OSCA Maserati Grand Prix car of Prince Bira.
The opening race on the new circuit was a 1977 First Event Commemoration challenge for saloons and sports cars. With four BMW 3.5 CSL Batmobiles entered and a range of 3 litre Ford Capri and 2 litre Ford Escorts competing against them, it looked like a Ford vs BMW battle. Mark Wright showed that the nimble Ford Escort RS1800 could hold its own round the twisty Donington circuit by claiming pole position in front of three BMWs. In the first race the crowds were entertained to a good battle between the Alex Elliot BMW and the Mark Wright Escort. The Escort had opened up a good lead near the end of the race, but on the last lap it slowed, low on fuel. This gave Elliot the chance to snatch victory by just over 1/10th of a second. Mike Wrigley came home third in another Ford Escort RS1800.
Race 1 The 1977 First event Commemoration Challenge
1st Alex Elliot BMW 3.5 CSL Batmobile 19 la 25mins 08.4 secs
2nd Mark Wright Ford Escort RS1800 19 laps 25mins 08.501 secs
3rd Mike Wrigley Ford Escor 25mins 31.659 secs
Their second race on Sunday was Race 10 on the programme. Alex Elliot held an early lead until retiring on lap 6. Mark Wright then took the lead and held it to the end, taking victory by over 9 seconds from the BMW 3.5 CSL of Young and Perryman with Grahame and Oliver Bryant taking the third spot in their Ford Capri RS3100.
Race 10 The Robert Else 1977 Celebration Trophy.
1st Mark WrightFord EscortRS1800 16 laps 21mins 18.617 secs.
2nd Young/Perryman BMW 3.5 CSL16 laps 21mins 28.141 secs.
3rd G Bryant and O BryantFord Capri RS3100 16 laps 21mins 31.392 secs.
The World Sportscar Masters also had two races over the weekend, with Oliver and Grahame Bryant getting both victories in a Lola T70 Mk3B. In the first race, they had a battle with the McLaren M1C which managed to lead for quite a while in the middle section of the race, before the Lola got back to the front and in the last few laps managed to open out a small lead.
Race 2 The World Sportscar Masters Trophy
1st O Bryant/G Bryant Lola T70 Mk3b 23 laps 30mins 00.650secs
2nd R Wills/J Twyman McLaren M1C 23 laps 30mins 06.380secs
3rd D Gathercole Coldwell C14 23 laps 30mins 15.358secs
The second race on Sunday was on a damp track and proved a start to finish victory for the Bryant Lola T70. This time David Gathercole managed to go one better than on Saturday to take the runners up spot in 2nd place, while Steve Tandy came 3rd in another Lola T70 Mk3b
Race 11 World Sportscar Masters Trophy
1st O Bryant/G Bryant Lola T70 Mk3b 24 laps 30mins 49.921secs
2ndD Gathercole Coldwell C14 24 laps 31mins 23.558secs
3rd S Tandy Lola T70 Mk3b 24 laps 31mins 41.153secs
The Interseries Revival race for CanAms and Proto 70's only had a small entry, but it had several interesting cars, including a pair of Matra MS670 sports cars and a March 717 Can Am car. The Matras locked out the front row of the grid, but the power of the March allowed Frank Bradley to snatch the lead in to Redgate on the first lap, but by the end of the lap, Rob Hall had put the Matra in the lead which he kept till the end.
Race 3 Interserie revival
1st Rob Hall Matra MS670 23 laps 25mins 58.014secs.
2nd Frank Bradley March 717 23 laps 26mins 06.573secs.
3rd Abba Kogan Matra MS670 23 laps 26mins 24.735secs.
The second race on Sunday also proved a walk over for Rob Hall in his Matra, leading from start to finish. This time, it was the March of Mike Wrigley which split the pair of Matras in the final results.
Race 9 Interserie revival
1st Rob Hall Matra MS670 23 laps 26mins 03.454secs.
2nd Mike Wrigley March 75S 23 laps 26mins 06.507secs.
3rd Abba Kogan Matra MS670 23 laps 26mins 07.091secs.
Saloon cars were next up, with the Oldies but Goldies under 2 litre race for Pre-66 Touring cars. The field mainly consisted of Ford Lotus Cortinas and Mini Coopers. Leo Voyazides put his Cortina on Pole position but was beaten off the line by Harry Mann in another Cortina. Leo got to the front on lap 2 and stayed in the lead until the compulsory pit stop, but soon worked his way back to the front to take victory. Sean McInerney bought the only BMW 1800 Ti in the race home in 2nd place with Harry Mann finishing 3rd in his Ford lotus Cortina.
Race 4 Oldies but Goldies with under 2 litre Pre-66 Touring Cars
1st Leo Voyazides Ford Lotus Cortina 30 laps 45mins 08.237secs
2nd S. McInerney/M. McInerney BMW 1800Ti 30 laps 45mins 31.001secs.
3rd Henry Mann Ford Lotus Cortina 30 laps 45mins 48.488secs.
High light of the race program for many of the fans were the Grand Prix Masters races. With a superb entry of Grand Prix cars from between 1971 and 1983, the noise alone was enough to bring joy to the hearts of true race fans.
For the first race on Saturday, David Abbott claimed pole position in his 1982 Arrows A4 and managed to lead from the start but only as far as the chicane where he ran wide over the gravel. This gave the lead to Roger Wills in his black Williams FW05 but only for a few yards over the start line. On the now longer drag down to Redgate, he was passed by Robert Austin in the similar orange and white Arrows A3 who then led all the way to the chequered flag. Wills managed to hold on to 2nd place until lap 11 when Bill Coombs in his Tyrell 009 took the place and started a fight for 2nd with Wills, with them swopping places over the next few laps. By lap 18 Steve Hartley in his Arrows A4 had joined the battle for 2nd place with Coombs and that was the final order, with an Arrows 1-2.
Race 5 Grand Prix Masters
1st Robert Austin Arrows A3 23 laps 25mins 24.793secs
2nd Steve Hartley Arrows A4 23 laps 25mins 25.791secs
3rd Bill Coombs Tyrell 009 23 laps 25mins 29.584secs
The second race on Sunday saw Bill Coombs back to his normal form. Starting 3rd on the grid, from the previous race result, he led every lap from start to finish. Steve Hartley scored another second place in his Arrows A4 while Abba Kogan proved how competitive the Arrows chassis is in Grand Prix Masters by finishing 3rd in his Arrows A3.
Race 13 Grand Prix Masters
1st Bill Coombs Tyrell 009 22 laps 25mins 03.513secs
2nd Steve Hartley Arrows A422 laps 25mins 06.818secs
3rd Abba Kogan Arrows A322 laps 25mins 14.392secs
The Gentleman Drivers race for GT cars over 3 litres was held over 2 hours on Saturday evening and provided yet another victory for Jon Minshaw, leading from start to finish, driving his regular Jaguar E-Type. He beat the AC Cobra of Oliver and Grahame Bryant with the TVR of Jon Shipman and Mark Hales third.
Race 7 Gentleman Drivers GT Cars over 3 litres
1st Jon Minshaw Jaguar E-Type 87 laps 2hrs 00mins 50.760 secs.
2nd O Bryant/G Bryant AC Cobra 87 laps 2hrs 01mins 5.629 secs.
3rd J Shipman/M Hales TVR Griffith 87 laps 2hrs 01mins 21.053 secs.
The over 2 litre Pre-66 Touring cars provided another opportunity for Leo Voyazides to show his domination at the circuit in a saloon car. Having won the under 2 litre race in a Ford Lotus Cortina, he went on to win the over 2 litre race at the wheel of a Ford Falcon Sprint, beating no less than former World Touring Car champion Paul Radisich who shared the Mercury Comet Cyclone with Roger Wills. Jason Minshaw and Rob Hall completed the top three driving another Ford Falcon Sprint.
Race 8 Sunoco Cup for over 2 litre Pre-66 Touring Cars
1st Leo Voyazides Ford Falson Sprint 31 laps 45mins 23.624secs.
2nd R Wills/P. Radisich Mercury Comet Cyclone 31 laps 45mins 47.029secs.
3rd J Minshaw/R Hall Ford Falcon Sprint 31 laps 46mins 22.227secs
A small entry for the Pre-66 Mini sprint race saw only seven cars competing. The early stages saw some spirited racing and victory went to Ron Maydon in his Austin Mini Cooper S
Race 12 Pre-66 Mini Sprint race
1st Ron Maydon Austin Mini Cooper S 14 laps 21mins 02.667secs
2nd Philip Burgess Austin Mini Cooper S 14 laps 21mins 02.738secs
3rd Mike Youles Morris Mini Cooper S 14 laps 21mins 08.153secs
Sports Racing Masters saw Chris and Alex Buncombe dominate in their Ford GT40 and win the race outright from the Minshaws who won the Bonnier Class which was combined in this race from the World Sports Car Masters series. Red Bull Grand Prix Designer Adrian Newey was enjoying a weekend away from the day job racing his Ford GT40. After a spin off at Redgate in Practice, Adrian kept it all together in this race to finish in 5th place overall, which gave him 2nd in class for the Sports Racing Masters series and a spot on the podium.
Race 6 Sports Racing Masters
1st C Buncombe/A Buncombe Ford GT40 46 laps 1hr 00mins 41.861secs.
2nd G Minshaw/J Minshaw Chevron B8 46 laps 1hr 00mins 47.356secs
3rd E Lovett Chevron B8 46 laps 1hr 01mins 21.548secs
The final race on the very busy schedule was a Gentleman Drivers Trophy race for under 3 litre cars, which saw a representative field of classic British sports cars with a lone Alfa Romeo Giulia TZ1 adding a little foreign interest. The early leader was the Austin Healey 3000 Mk1 of David Smithies until about a quarter of the way in to the race the Marcos 1800GT of Alex Tice and Chris Conoley grabbed the lead which they maintained until the end of the race.
Race 14 The Ogdens Trophy for Gentleman Drivers GT cars under 3 litres.
1st Tice/Conoley Marcos 1800GT 82 laps 2hrs 00mins 01.463secs
2nd Ahlers/Bellinger Morgan SLR 82 laps 2hrs 01mins 20.693secs
3rd Smithies/ Campfield Austin Healey 3000 Mk1 81 laps
http://www.themastersseries.com
© Source et photos : Simon Wright & Janet