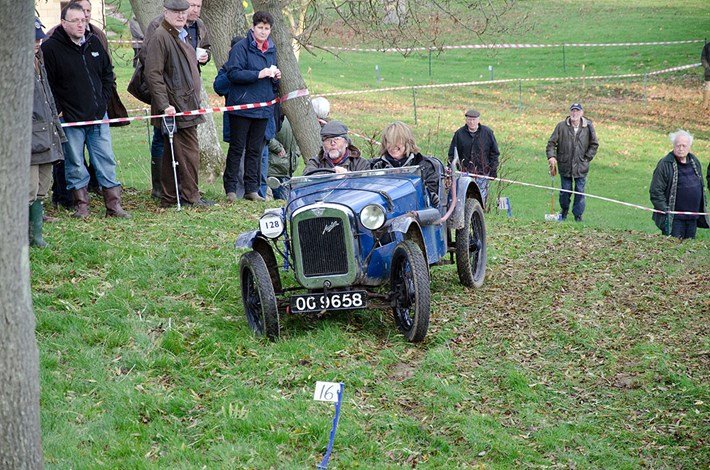 Many people who buy a vintage car lock it in a garage for safe keeping, some put them in a museum while others will display at Classic Car shows. Others buy them to have fun, and as these owners show, you can have lots of fun in a car trial. These events are not about speed, but are about driving skill. They take place on grass and muddy hills, where the winner is the one who can get furthest in the tricky conditions. Each course is marked out with number markers. The score is taken from the last cleared marker. If you hit marker 17, your score would be 16. Just to add extra excitement, there are some courses which contain a compulsory stop. Here you have to restart without rolling back.
The one advantage to this form of motorsport is that the whole family can take part in the right vehicle. You can carry extra passengers to increase the weight of the vehicle and help the tyres cut through the mud and get a grip. The fun starts when the passengers all bounce up and down in their seats to help improve the vehicles traction.
The most popular car for this event seemed to be the light and nimble Austin 7, while the unlikely cars, that went well, were large Ford Model A's and various Bentley saloons. The Harold Powell Cup for the overall winner and the Inderwick Cup for the best Vintage car were shared by Jonathan Mellor in his Austin 7, David Price in his Austin 7 Gordon Eng Cup car, Keith Dobinson in another Austin 7 and finally Ed Williams in yet another Austin 7 Ulster who all scored 350 points to be joint winners of Class 1b Short Wheelbase. The Cotswold Cup for the best score in the Novice class was won by Hugh Cochrane driving a 1929 Austin 7 Chummy. David Rushton won Class 1a for Short wheelbase Standard cars driving an MG M Type and Dennis Bingham won Class 2a for Long wheelbase standard cars driving a Ford Model A. The final class winner in Class 2b for Long wheelbase cars went to Stuart Cooke in a 1929 Morris Cowley.
© Simon and Janet Wright.