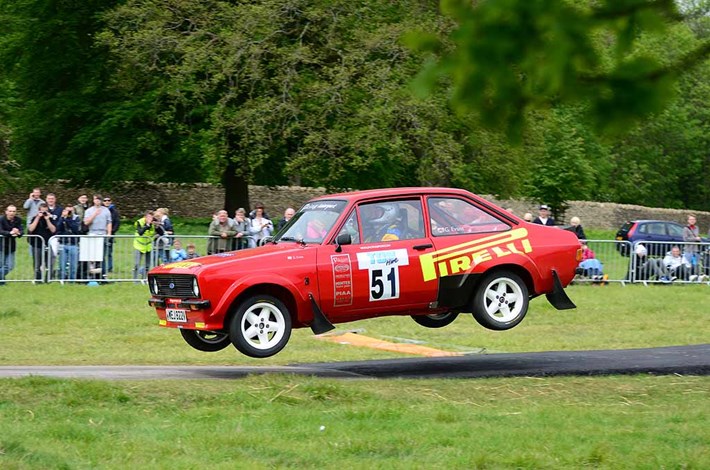 Moving to a new venue for 2011, the Rally show proved to be a big hit at Cornbury Hall. Previously held at Chatsworth in Derbyshire for four years, the new venue provided a new course to challenge the drivers. Starting at the front of the Hall, the cars swept downhill through a long fast left hand bend before disappearing through the trees into a tight chicane. The cars sped along past the car club displays then down a long fast curve before rising again to the spectacular jump. Once the cars had landed on another down hill section, they had a sharp left hand turn to the finish line.
With a range of cars covering the history of modern rallying plus the UK debut of the new Mini John Cooper Works WRC rally car and the works Ford Fiesta RS WRC car, the fans were treated to some spectacular action on stage. Dani Sordo driving the Mini and Henning Solberg in the Fiesta were both keen to set fastest time on the stage, but the big surprise was the performance of Simon Mauger in his Mk II Ford Escort, who was trading times on Saturday with Sordo. The event also staged a Top 10 knock out competition on Sunday for the Ford Escorts and it was no surprise to see Simon Mauger take the fastest time of the day to win the trophy.
The event drew a large entry of Historic Rally cars, especially the Group B supercars. These all did runs round the stage, and were really trying round the course, with most of them getting airborne over the jump. Local Midland hero Russell Brookes was driving one of his old Andrews Heat for Hire Talbot Sunbeam Lotus rally cars, and appears to have lost none of his skill or speed. Other cars making an appearance included various Audi Quattro rally cars, a Lancia 037, a Rover Vitesse and a Ford RS200.
Ex British Rally Champion Jimmy McRae was driving a Ford Sierra Cosworth and Andrew Cowan was re-united with a 1966 ex-works Sunbeam Imp and there were a pair of ex-works Triumph 2.5PI rally cars on display. In the History of Rallying section there was a Mini Cooper S from 1967, an ex-works Triumph Spitfire from 1964 and an Alpine Renault A110 from 1971.
By Simon and Janet Wright.