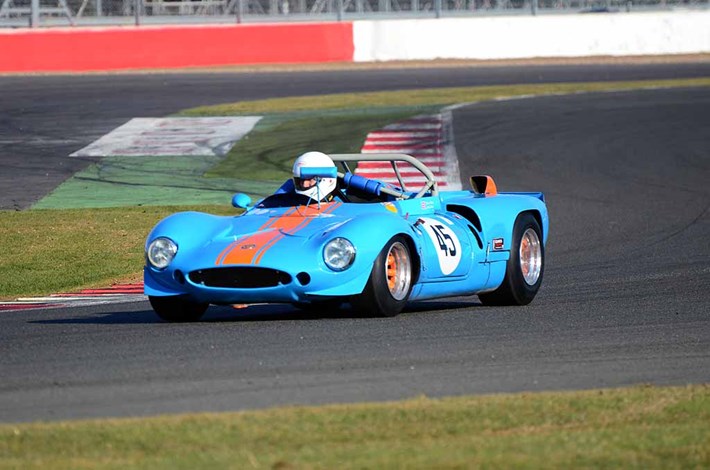 The Historic Sports Car Club held their Championship Finals historic race meeting on the National circuit at Silverstone on Saturday 22nd October 2011. Bright blue sky and sunshine greeted the competitors to a very cold Silverstone for the last rounds of the various HSCC championships. The spectators were treated to a great mixture of races which covered everything from Saloons and sports cars through to the mighty Formula 5000 single seater racing cars.
The meeting opened with the Classic Racing cars. The championship had already been decided in favour of Ian Gray driving a Brabham B16, and he used the final round as a victory parade winning the race. Next out were the 70's Road Sports which had a large field of superb sports cars from the 1970's. The championship had already been secured by John Thomason in his Triumph GT6 MkIII. The race was won on the road by the blue and orange Porsche 928 of Paul Anderson, but he was excluded after the race for the car being under weight, so the provisional winner was Paul Conway driving a Morgan Plus 8.
The Classic Formula 3 champion elect Jamie Brashaw was missing from this meeting leaving last years champion Benn Simms with a relatively straightforward victory in his March 803B. Next was the turn of the sports cars again, this time the Historic Road Sports to entertain the crowds. Paul Tooms in his Class C Lotus Elan had already won this championship with 6 overall wins, but at Silverstone he only managed 5th place behind Justin Murphy in a Ginetta G4 in 4th place who won class C. The overall win went to Matthew Truelove who dominated the race in his TVR Griffith.
The Historic Formula Ford Championship arrived at Silverstone with two drivers still in with a chance of taking the title. Benjamin Mitchell needed to win the race with his championship rival Benn Simms finishing lower than 15th. Mitchell did what was required of him to win the race in his Merlyn Mk20, but rival Benn Simms took the championship by finishing behind him in second place in his Alexis Mk14.
The Guards Trophy race for GT and Sports Racing Cars saw James Dodd in his blue and orange Ginetta G16 take a clear win in the race from a pair of beautiful Chevron B8's. The Championship was won by Tom Smith driving an MGB who took another class win at Silverstone. The interesting and rare Brahma B2 of Richard Piper came home 5th overall.
The Derek Bell Trophy race for Formula 5000, Formula 2 and Formula Atlantic cars is run as a series and not a championship, so there was no champion in this event. The race was won by Michael Lyons in a Formula 5000 Lola T400 from Lee Dwyer in second place and top Formula 2 car in his March 782.
The Historic Touring car race had to be red flagged after the Hillman Imp of Vince Frost lost a rear wheel at Brooklands and his car was stuck on the track. The race was re-started for a 5 minute dash to the flag which saw Mark Jones take victory in his Ford Lotus Cortina with Mike Gardiner making it a Ford Lotus Cortina 1-2 by just piping Gregory Thornton's Ford Falcon which was leading the first part when the red flag came out. Current Champion Roger Godfrey in his Austin Mini Cooper did enough to retain his championship with a second place in class finish, even though championship rival Neil Brown managed to win his class in his Ford Lotus Cortina.
The final race of the day for the Historic Formula Junior championship proved to be a thriller with 2011 Champion Jon Milicevic taking victory in his Cooper T59 from Sam Wilson in another Cooper T59 by 0.678 of a second after 15 minutes of racing.
This proved to be a fitting end to an exciting season of Historic races for the HSCC and we look forward to next season for more of the same.
By Simon and Janet Wright