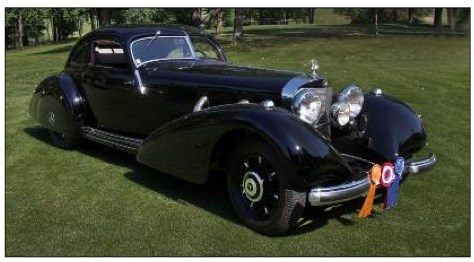 1933 Duesenberg SJ Riviera Phaeton and Mercedes-Benz 540K Autobahnkurier win Best of Show at 2011 Concours d'Elegance at St. John's
10.000 visitors - 331 cars on display
PLYMOUTH, MI, August 1, 2011 – Last weekend, more than 10.000 visitors came to see the Concours of America at the new venue at the Inn at St. John's in Plymouth after decades at Meadow Brook Hall. And what a difference it made! The new space allowed for no less than 331 cars to be displayed on the generous field in almost two dozen classes. The well deserved winners of the first of many Concours' of America at St. John's were John D. Groendyke, who won "Best of Show Domestic" with his fabulous 1933 Duesenberg SJ and well-known collectors Arturo and Deborah Keller with their breathtaking black 1938 Mercedes-Benz 540 K Autobahnkurier, which was awarded the honors of "Best of Show Foreign".
1933 Duesenberg SJ Riviera Phaeton by Brunn
This majestic Duesenberg SJ Riviera Phaeton, SJ528, is one of only three Riviera Phaetons with coachwork by Brunn and one of only two factory supercharged cars. Originally purchased in June of 1934 by Lt. Col. Jacob Schick of razor fame, it boasts an ingenious roof design that was sleek and elegant compared with many contemporary solutions.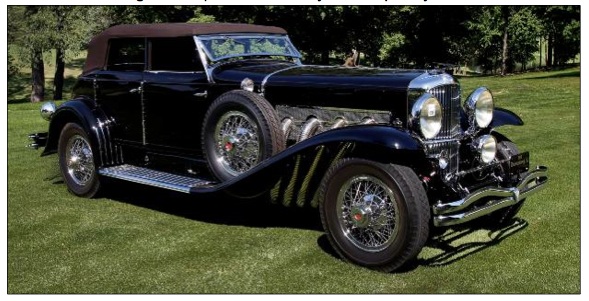 The 420 cu.in inline-eight-cylinder-engine of this car delivered no less than 320hp – in 1933 an almost unbelievable number. Restored in the early 2000's by multiple Best-of-Show-winning restorer Fran Roxas, the complete "nut and bolt" restoration involved every mechanical component either being rebuilt or refurbished as necessary. The award at the Concours of America reflects the effort being put into this car as well as the uniqueness of its design, history and technical specification.
1938 Mercedes-Benz 540K Autobahnkurier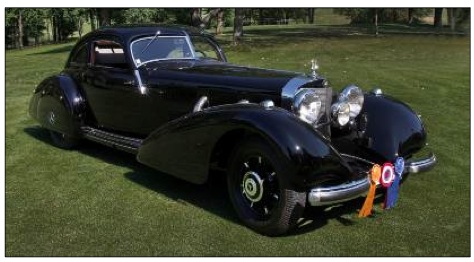 The Mercedes-Benz 500 and 540 K sports cars are no doubt unique and highly collectible vehicles. The perfect example displayed at this year's Concours of America by Arturo and Deborah Keller, however, is an even more unique style exercise from the aero- dynamic decade of the 1930's. The imposing 1938 Mercedes-Benz 540 K Auto- bahnkurier, as the name suggests, was intended, for the very select few to cruise at unheard-of speeds on the newly created German Autobahns. Low-slung, with an almost seductive, tapered rear-end, the car is rumored to have inspired Jean Bugatti to create the legendary Atlantic. Powered by a 5.4 liter inline-eight- cylinder with a super-charger delivering 180 hp, this aerodynamic pioneer was capable of speeds in excess of 115 mph. This car was built new for Spanish Professor Ignacio Barraquer in 1938 and remained in the Barraquer family for almost 70 years, until Keller acquired it in 2004
and commissioned a full restoration by noted Mercedes experts Paul Russell & Co.
Other awards
Concours d'Elegance of America at St. John's 2011 – Best in Class
Jazz Age 1915-1928 – 1927 Kissel, Ken & Karen MacKinnon
American Popular 1928-1942 – 1934 Plymouth PE, C. Doran & Jane Johnson
Post War European – 1954 Jaguar XK-120, Ron Schotland
Classic Era Closed 1929-1942 – 1934 Packard 1106, Ralph & Adeline Marano
Classic Era Open 1929-1933 – 1932 Marmon Sixteen, Brent Merrill
Gas Light 1900-1914 – 1911 Pierce-Arrow 48, James Brophy
American Muscle – 1970 Buick GSX, Mike Rehberg
Sports Racing – 1959 Ferrari 250 GT TdF Competition, Patterson Collection
Drag Cars – 1971 Chevrolet Vega, Al Bergler
Auburn Cord – 1933 Auburn V-12, Joseph & Margie Cassini
Lincoln Early – 1933 Lincoln KB, Stephen Brauer
Lincoln Late – 1956 Lincoln Premiere, Vernon Smith
Chevrolet 100 Years – 1936 Chevrolet Master, Pinky & Joyce Randall
Color and Chrome: The Fifties – 1957 Dodge Custom Royal Lancer, Diran & Joyce Yazejian
American Post War 1946-1959 – 1948 Tucker Torpedo, Ted Stahl
American Post War 1960-1970 – 1964 Buick Riviera, Al & Cheryl Schmidt
Post-War Sports 1960-1970 – 1971 Ferrari 365 GTB/4 Daytona, Michael Curis, Jr.
Duesenberg Model A – 1923 Duesenberg Model A, Killorin Family
Duesenberg Model J – 1929 Duesenberg Model J, Charles Letts, Jr.
Classic Era Open 1934-1942 – 1934 Packard, Frank & Milli Ricciardelli
Mercedes-Benz: The First 125 Years – 1960 Mercedes-Benz 300SL Roadster, Jim Utaski
Pre-War European – 1926 Hispano Suiza H6B, Frank & Milli Ricciardelli
Concours d'Elegance of America at St. John's 2011 – Special Awards
Chairman's Award – 1911 Thomas 6-70K Flyer, John McMullen
People's Choice – 1930 Pierce-Arrow Model B, Mrs. Miriam Waterhouse
Best Driving – 1965 Aston Martin DB5/6, Patterson Collection
Bill Mitchell – 1957 Buick Roadmaster, Linda & Richard Kughn
Most Original, The Way it Was – 1929 Duesenberg Model J, Adrien & Andrew Labi
Most Elegant – 1926 Hispano-Suiza H6B, Frank & Milli Ricciardell
Timeless Beauty – 1933 Auburn V12, Joseph & Margie Cassini
Spirit of Modernism – 1931 Voisin C20 Mylord Demi-Berline, Jack Rich
Designer's Choice – 1935 Hispano Suiza J12, Merle & Peter Mullin