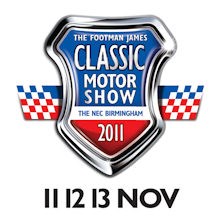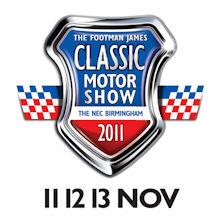 Over 47,000 people visited the Classic Motor Show which took place between the 11th and 13th of November 2011 at the National Exhibition Centre, near Birmingham. The Classic Motor Show continues to grow year after year, and this year proved to be the biggest and best so far, and was spread over six halls. The show allowed 230 car clubs to display 1,400 vehicles, up from the 190 clubs in 2010. This year the classic motorbike show took place at the same time in an adjoining hall, with 300 bikes on display. Because bikes are so small compared to cars, they don't take up a lot of space to be displayed, and this allowed for a live Trials bike action arena and a Wall of Death action display to give live performances during each show day.

The Classic Motor Show was particularly busy on Saturday with an increase in public attendance compared to last year. The Ford car clubs represented at the show were celebrating 100 years of Ford Great Britain. Ford has always been a major manufacturer in the British car market. The various clubs were displaying most of the Ford range of vehicles starting with a replica Ford model T, various Ford model A's, Ford Escort's, Capri's, Anglia's and most other models that have appeared in Britain over the last 100 years.

Most of the motor racing clubs of Great Britain were also well represented at the show. The Vintage Sports Car Club, the Historic Sports Car Club, the Midland Automobile Club, all had interesting displays of cars on their stands. The Bugatti owners club, that runs the Prescott Hill climb, had a range of classic vintage Bugatti Grand Prix cars and an ultra modern Bugatti Veyron on their stand.

On Saturday the large crowd was very pleased to see Sir Stirling Moss make an appearance at the show. He travelled around the show, visiting many stands and signing lots of autographs and posing for pictures. For the motorbike fans multiple world champion Carl Fogarty and Superbike rider Frankie Chili made appearances in the classic motorbike show Hall over the weekend.

One of the highlights of the show was based in the large Hall 5. Meguiar's have sponsored various classic car shows and meetings during the year. From these various shows, the best car in each show was brought to their stand to find the best of the best. The award went to the 1966 Austin Healey 3000 Mk3 of Bill Donaldson from South Yorkshire.
By Simon and Janet Wright