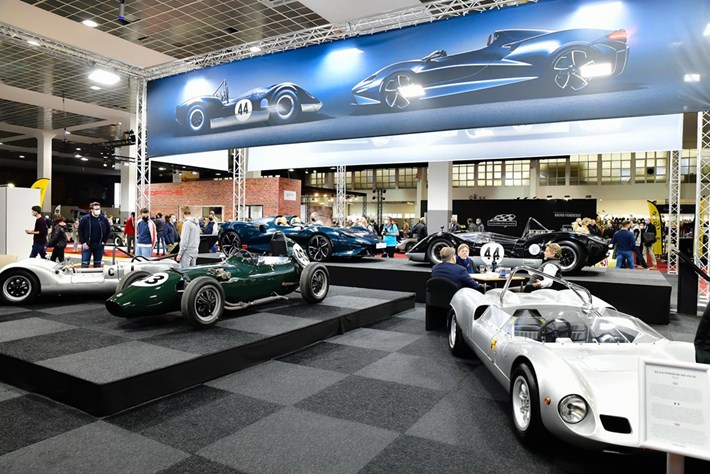 Brussels, 21 November 2021 – The sixth edition of InterClassics Brussels will be remembered for years to come. Over the past three days, almost 20,000 car enthusiasts have visited the classic car fair. The main theme, 75 years of Jacky Ickx, proved to be an absolute hit! On Saturday, it became clear that Mr Le Mans still makes the heart of many car lovers skip a beat. Fans came in large numbers to have books, scale models and even racing helmets signed. His presence has left a crushing impression on everyone. In addition to the main theme, the British sports car brand Elva was honoured with a dedicated pavilion. This thematic exhibition was created in cooperation with Minister of State, Guy Verhofstadt (Elva expert and collector). Eight Elvas were on display to show the highlights of this brand which, although less known to the general public, led to the birth of the well-known McLaren in 1964.
Youngtimer Show
At the Youngtimer pavilion, visitors could get acquainted with the new event of InterClassics: the Youngtimer Show (9, 10, 11 September 2022 in MECC Maastricht). Several classics in the making, including a Spyker C8 Laviolette, were on display to promote this new exhibition concept. This year, the Art Area attracted extra attention with the presence of a Porsche 911 decorated by Larissa Ickx. Together with artist Edu Danesi, she painted the sports car in the colours of her father's helmet with texts referring to the Ickx family. The club section at the fair was again run by BEHVA, the Belgian Historic Vehicle Association. Various clubs, from Abarth to Volkswagen, were represented here. Just like last year, the AutoScout24 Area offered private individuals the opportunity to sell their classic cars. Erik Panis, Manager InterClassics: "Our partners and exhibitors confirmed what we already suspected: The industry was very much in need of a reunion. For many exhibitors, InterClassics Brussels is an excellent opportunity to meet at a time when organising large-scale events is not easy. Both visitors and participants appreciated that the event could take place and that it lived up to the expectations."
Gaëtan Van der Kindere – British & Sports cars: "This is our third participation in InterClassics Brussels and this year all our major customers were there. Many of our buyers are looking for events to attend and this fair answers that demand."
Jannick Tapken – MyCarmunity Auctions: "Our first participation in InterClassics Brussels was a test run that we liked very much. Visitors were introduced to our hybrid auction concept and responded with great enthusiasm to our presence. Visibility is important for an auction house and InterClassics offers us the chance to quickly and personally address a diverse audience."
Mark your calendars
The seventh edition of InterClassics Brussels will take place from Friday 18 to Sunday 20 November 2022 in Brussels Expo. More information about the fair is available on the website www.interclassics.be.
About the author: