Cairo, Egypt

Egypt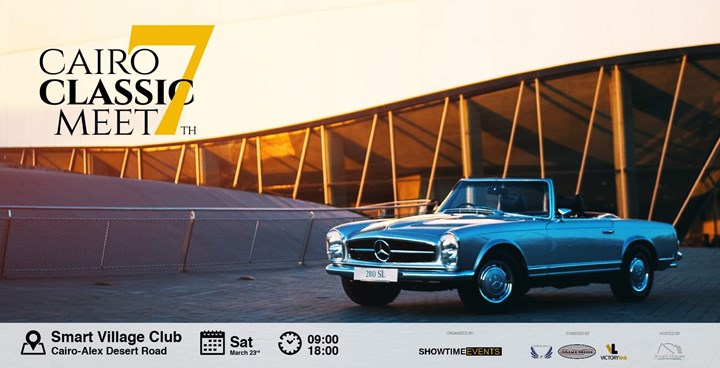 Event Type

Shows, Festivals· Club Meeting

Date

23 March 2019

Departure location

Egypt 6th October N/A Cairo Smart Village Club, Cairo-Alex Highway, before Cairo Tolls

Arrival location

Egypt

Website

Event organiser

Mahmoud Ezzeldin

Inserted By

Phone

+201203377063

Email

Document
  It's that special time of the year again, bring your family & friends to 7th Cairo Classic Meet, on Saturday
the 23rd of March at the Smart Village Club.
Prepare yourself for a fun day packed with various attractions to suit all family members. Not just an enormous line up of classic cars but also nostalgic tunes, live entertainment, kids activities, delicious food outlets and various commercial booths.
In collaboration with ShowTime Events, Scash Investments, El Nada Foundation for Safer Egyptian Roads, Smart Villages & Vintage Wheels Egypt, we proudly bring you The 7th official Cairo Classic Cars Meet.
The event will host 9 different categories:
Vintage Car (1900 - 1949)
Modern Classic Car (1974-1989)
Classic Truck (1900 - 1989)
Classic Motorcycles (1900 - 1989)
Customized Classic (1900 - 1989)
Classic 4x4 (1900 - 1989)
Thanks to passionate and dedicated owners who set a record just above 200 vehicles during the previous Classic Meet. We have increased the meet's display space paving the path for a new Cairo Classic Meet record.
Mark the date (Saturday, March 23rd) and bring all your family (Kids friendly) & friends. 


Interested to participate. Please fill out our registration via this link bellow.
Registration deadline: March 10th 2019.
Feel free to contact us for any inquiries
Tags: