Liège - Sedan - Hierges, Belgium

Hierges, France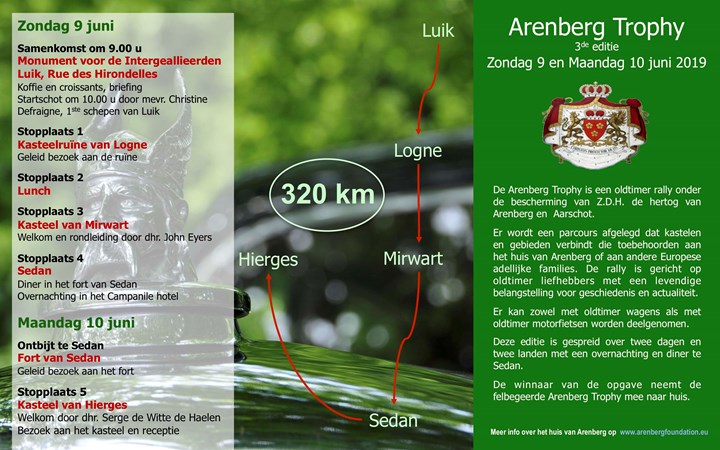 Event Type

Rally, Tour

Date

09 June 2019

to

10 June 2019

Departure location

Belgium 4000 Liège - Sedan - Hierges Mémorial des Interalliés, rue des Hirondelles, Liège

Arrival location

France Hierges Château de Hierges

Event organiser

Kris Smets - The Drones Club of Belgium

Inserted By

Phone

+32477690239

Email

Document
Sorry, we didn't receive an English translation
Le Drones Club of Belgium organise la 3ième édition de l'Arenberg Trophy dimanche 9 et lundi 10 juin. Le départ se fait au Mémorial des Interalliés à Liège et ensuite nous prenons la route vers le Château-Fort de Logne (avec visite) et puis vers le Château de Mirwart (avec visite privée) près de Rochefort pour finir la journée
à Sedan; là nous dînons ensemble et nous y passons la nuit. Après une visite lundi matin au château-fort de Sedan, nous parcourons la région de la vallée de la Meuse dans le nord de la France jusque Hierges, juste en dessous de la frontière belge, où nous attend une réception au château. Comme les années précédentes, l'organisation jouit de la protection et du support du comte d'Arenberg. Le nombre de véhicules participants est limité à 40, ainsi on peut garantir une
bonne organisation. La participation coûte 180,00 EURO pp dans une chambre pour 2 personnes et 215,00 EURO dans une chambre pour 1 personne. Le montant doit être viré au compte en banque BE61 7330 0742 8917 du Drones Club of Belgium avant le 30 avril 2019.