Beerse, Belgium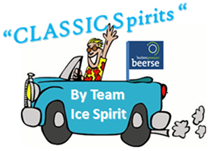 Event Type

Shows, Festivals

Date

10 September 2017

Location

Belgium Beerse Kerkplein 2340 Beerse

Website

Phone

+32472858729

Email
For the third time we will convert Beerse into a Classics village !! 
Synchroonschaatsteam Team Ice Spirit also organizes an old-timer event for cars EN motos (New this year!) Over 25 years with a beautiful round trip and a meeting all day. 
Previously, this was called "Olympia Classic" but as we created a new Synchroonschat team founded under the name Team Ice Spirit, it also changed its name to "CLASSIC SPIRITS", edition 2017. 

Sunday, September 10th, continuous free meeting and non-binding payroll trip in favor from Team Ice Spirit Synchro skater youth.
Start at 9am for meeting until 6pm. Access free, also for passengers and visitors. Award ceremony among participants meeting for the most beautiful, special and original car at 17h in cafeteria, chosen by our youngest skaters. Hot and cold snacks and drinks available throughout the day. Spring castle for the youngest in the field. 

Touristic tour Bolleke Pilgrims in Antwerp Kempen with fun activity on the road, beautiful views and nice stops. 
Start an arrival at Markt / Kerkplein Beerse. Touring is paid by car + all occupants at 12 euro pre-registration by car and 15 euro on the spot the day itself.
When registering for a tour, you will receive a detailed roadbook, goodiebag, exclusive rally plate and a voucher by registration. For every participant in the round trip there is also free coffee and pastry in the morning. Pricing round trip ceremony at 5.30 pm in cafeteria. 

We hope for a big turn so that our skaters (from 6 years) can also participate in foreign matches next season and keep their equipment without having to pay membership fees ... Our young skaters will welcome you all! 

Enroll in advance by mail to contact address with name, place of residence, car and type, year of construction and license plate. You will then receive all the details for registration.
Subscribed participants can be viewed on our website. Registration is only final after payment and listing on website. 

More detailed info later on our website and here.