Beerse, Belgium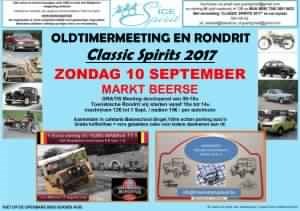 Event Type

Shows, Festivals

Date

10 September 2017

Location

Belgium Beerse Markt 2340 Beerse

Website

Phone

+32472858729

Email
This year, the Minerva TT, the Minerva Tout Terrain, is 65 years old !! As the last Belgian production car and produced at Mortsel we will celebrate this together with the Classic Spirits meeting and tour 2017! The intention is to break the record of the previous edition five years ago in 2012 and thus not collect 60 but 65 driving Minerva on the Beerse market. In 2012 Minerva was collected from Belgium, the Netherlands and the United Kingdom. Event in cooperation with Minerva TT Register vzw and TVVL. They will provide information about the Minerva / Land Rover and its extensive service in the Belgian army and even specifically around the training center in Turnhout.

The meeting is completely FREE and we would like to have all Minerva together at 13:00 for the record photo. There is a separate piece reserved for all Minerva. 

There is also a softroadbook available with partially dirt roads, but also paved pieces with a little military history of the Noorderkempen. Subscribe in advance for this ride at 8 euro to 1 September. Only then a special souvenir for 65 Years Minerva TT. Enrolling for the tour can also be paid on site at 10 euros. You can also sign up for the Classic Spirits tour. 

We hope to break the previous record of 2012 with 65 pieces in Beerse. 

More information is available on the website and facebook page Classic Spirits 2017 from Team Ice Spirit! 

Already until then!