Maaseik, Belgium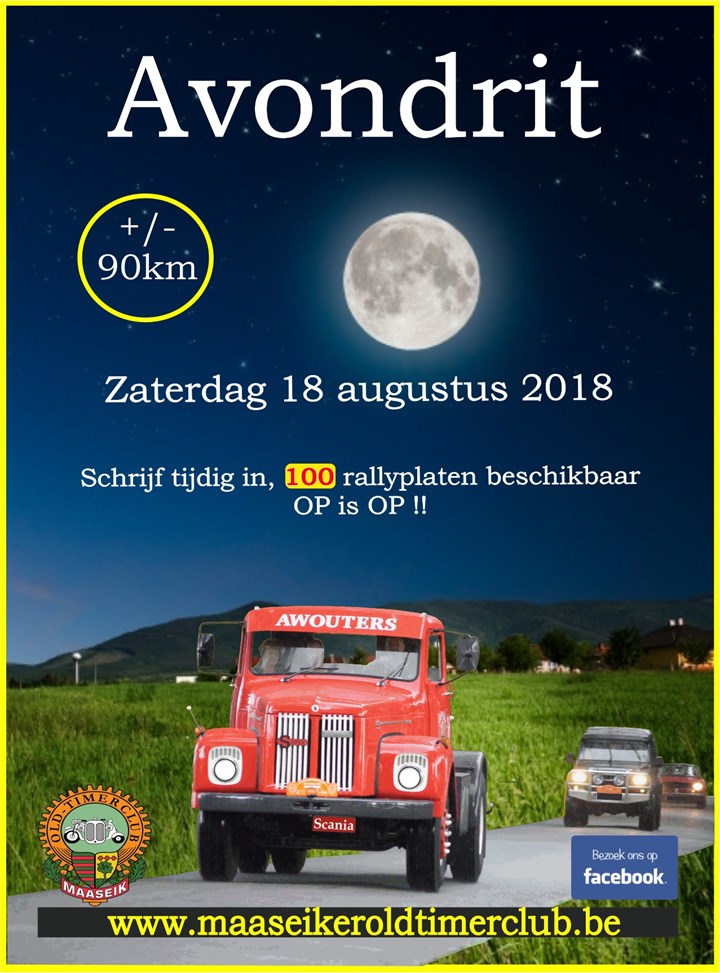 Event Type

Rally, Tour

Date

18 August 2018

Location

Belgium Maaseik Rotemerlaan 34 3680 Maaseik

Website

Email
AVONDRIT 2018 

The Maaseiker oldtimerclub vzw organizes this year again on 
Saturday, August 18, 2018 an evening ride. 

Start location: "Sporthal Neeroeteren" Rotemerlaan 34, 3680 Neeroeteren (B). 

The drive, about 90 km, leads us towards sunset and beautiful panoramas. 
Upon returning, you can enjoy the Cafetaria "Den Aftrap" free of obligation. 
Tip: do not forget your reading light! 
Starting can end between 6 pm and 7 pm at around 11 pm. 
You will receive the route book (bolleke-arrow) at the start. 
Registration fee: 
Non members: Vehicle (2 persons) -------- 15.00 € 
Club members: Vehicle (2 persons) -------- 12.50 € 
Including 1 consumption per person.

Register in time, 100 rally plates available, OP is OP 

Registration: 
The registration fee must be paid in advance to 
Maaseikeroldtimerclub vzw, Steenweg to Neeroeteren 6 3650 Elen - Dilsen. 
IBAN nr: BE48 7350 1507 7727 
BIC KREDBEBB 
with mention of 'EVENING RIDE' and MOT club members: Please enter 

membership number via the website or via secretariat: [email protected] until 15 August 2018 and the payment is deemed to be an Enrollment certificate. 
Evening registration is also possible.