Madrid, Spain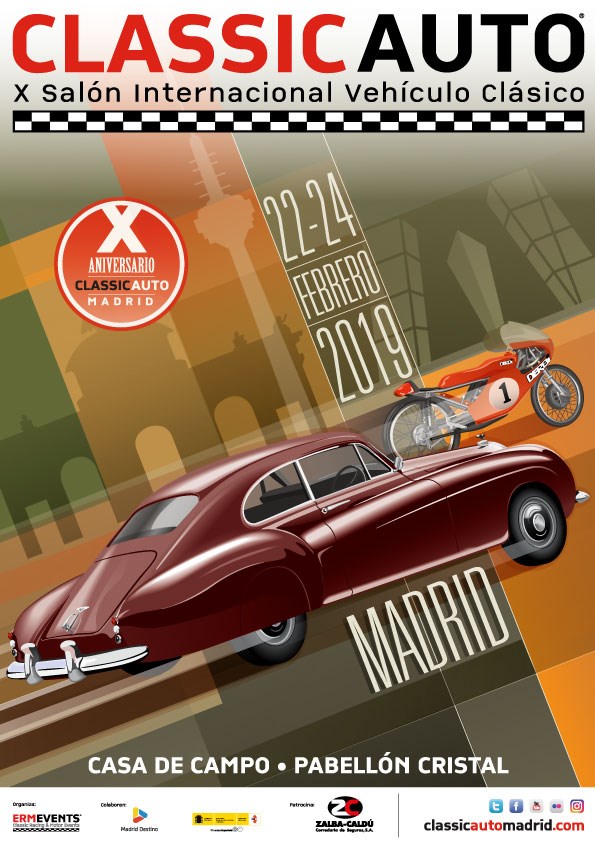 Event Type

Swapmeets/Autojubble· Shows, Festivals

Date

22 February 2019

to

24 February 2019

Departure location

Spain Madrid 28011 Madrid Av. de Portugal, s/n

Arrival location

Spain Madrid Madrid

Website

Event organiser

ERMEVENTS

Inserted By

Phone

+34910015401

Email

Document
ClassicAuto Madrid, International Event of Classic Vehicle, is a fairground initiative of commercial nature, dedicated to classic motor that takes place, every year, in Madrid. ClassicAuto Madrid gathers at the Glass Pavilion of Casa de Campo, on a 35.000 sq. meters exhibiting surface, the main companies of the sector that offers all collectors, fans and general public, hundreds of classic motorbikes and automobiles; accessories and components to equip and repair vehicles; flea market, textile, accessories and publications. Around 300 exhibitors coming from 10 countries, participate every year in this event. The International Event of Classics in Madrid is, apart from this, the meeting point of clubs and associations from all over Spain.



---
About the organizer
ERMEVENTS, organizing company of AutoRetro Barcelona.
The experience gathered by the management of ERMEvents along
more than twenty years of professional experience in organizing commercial, ludic and sportive events linked to the motor sector, is the main bulwark that the company is based on.
ERMEvents, company headquartered in Barcelona, consists of a
compact professional team captained by Pablo Antón Elvira and Héctor Ribas. Both treasure experience and knowledge in the exhibition sector and in the automotive world.
Pablo Elvira has over 20 years experience in the organization of fairs throughout the Iberian Peninsula. Among others, the events of Motorcycle Seville and Motorcycle Vigo, Malaga, Zaragoza, Valencia
and Seville, the events of Classic cars of Madrid, Porto and Braga, Top Car Madrid, etc. In total more than 120 fair events prove his success. Héctor Ribas has also developed his professional activity in the sector and is a renowned entrepreneur in the field of motor, having practised in Spain the representation of international brands such as GrandPrix Originals, Alfa-Sport, Cambridge Motorsport, etc.
ERMEvents brings a new vision and perspective of what the
exhibition sector linked to motor looks like these days, both at professional level (exhibitors) as at amateur level (visitors), articulating dynamic and participative initiatives that integrate all parts involved. Our company brings freshness to the mainland exhibition sector by developing entrepreneurial proposals, the operational capacity of its team and the excellency of their
services.
The team of ERMEvents is integrated by independent
professionals with a solid background and extensive experience who contribute with their knowledge and experience in fields of economy, business, communication, marketing and new technologies, to guarantee the viability and success of all projects they develop.
ERMEvents organizes since 2010 the International Classic
vehicle event, ClassicAuto Madrid, since 2012 the Commercial Motorcycle event, MotoMadrid, and since 2015 also AutoRetro Barcelona. In these years, more than half a million people have visited the events promoted by this company.
To know more about other activities and events by ERMEvents
you can visit: www.ermevents.es
Tags: