Opwijk, Belgium

Belgium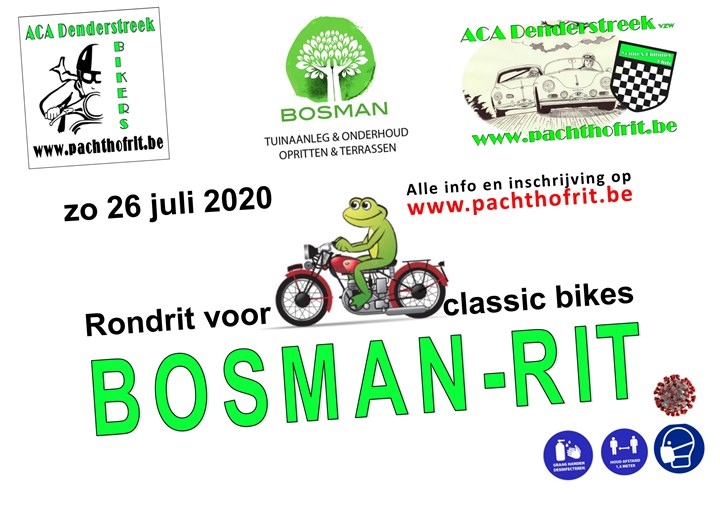 Event Type

Rally, Tour

Date

26 July 2020

Departure location

Belgium Oost-Vlaanderen 1745 Opwijk Kloosterstraat 7, 1745 Opwijk

Arrival location

Belgium

Website

Event organiser

ACA Denderstreek vzw

Inserted By

Phone

+32494189188

Email

Document
Sorry, we didn't receive an English translation
Bepijlde corona-proof biker-rit niet alleen voor classic old-school
bikes maar ook voor new-school bikes van 25 cc tot 125 cc.

Zeker je mondkapje en balpen meebrengen !
Een woordje uitleg ?

Dat gaan we jammer genoeg niet doen...we gaan niets prijsgeven.

Je zal maar moeten zorgen dat je er kan bij zijn en anders wordt het achterafvan horen zeggen of...

achteraf gelezen op Facebook of elders ....

vertrek: 

cafetaria Gemeenschapscentrum Hof ten Hemelrijk,  
Kloosterstraat 7,
1745 Opwijk

Inschrijvingstafel: vanaf 13u

Breefing en vertrek: +/- 13u30 

Het wordt zoals steeds bij ACA "driving and having fun!"
Voor-inschrijving tot vr 24/07/2019 om 12u

http://www.pachthofrit.be/bosman-rit-bikers-26-07-2020.html

Inschrijven ter plaatste kan ook maar dan
zonder ontvangst ritplaatje

Tot dan ?
Tags: