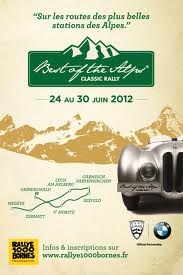 Event Type

Rally, Tour

Date

24 June 2012

to

30 June 2012

Location

France

Website

Event organiser

Marc Bosse

Email
Sorry, we didn't receive an English translation
Sunday 24th June 2012
9 a.m to 12 a.m : Technical & administrative check-up inside the village of Megève. Lunch and departure from Megève via Chamonix, La Forclaz Pass and the valley of Brigg.
Stop at Zermatt at the foot of the mythical Matterhorn. Night at the Mirabeau**** & Alpenhof **** hotels.
Monday 25th June 2012
Longest day of the rally to travel through Switzerland via Furka Pass and Oberalp Pass. Arrival in the austrian resort of Lech -Zurs for the second evening. Night at the Arlberg ***** hotel.
Tuesday 26th June 2012
Morning climb of the high road of Silvretta (2036 m). Lunch at the Arlberg Pass before a descent to Bavarian region and its forests. Arrival in the heart of the olympic resort of Garmisch-Partenkirchen. Night at the Riessersee **** hotel.
Wednesday 27th June 2012
Relaxing day with the visit of the Linderhof Castle and its beautiful gardens, we will then stop in the traditional village of Oberramergau. Arrival in the afternoon at Seefeld to discover this animated resort. Night at the Eden **** hotel.
Thursday 28th June 2012
After going through the Ötztal valley, we'll be heading for Italy via the Timmeljoch Pass (2474 m). The roads of the Engadine will then lead us to the resort of St Moritz.
Night at the Laudinella **** hotel.
Friday 29th June 2012
One day on the top of the mountains with a morning discovery of the Albula Pass and then the climb of the Susten pass before a descent to Interlaken.
The resort of Grindelwald located at the foot of the majestic Eiger will welcome us for the closing dinner gala. Night at the Schweizerhof ****sup. Hotel
Saturday 30th June 2012
Return on you own after the breakfast (highways going from Interlaken at 20km) or opportunity to extend your stay in Grindelwald.