Commezzadura (Val di Sole), Italy

Pellizzano (Val di Sole), Italy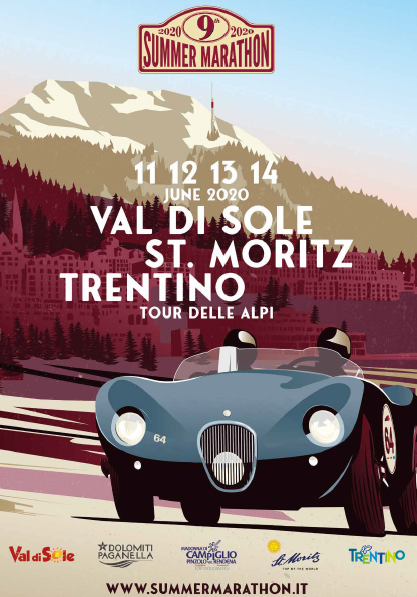 Event Type

Rally Competition

Date

11 June 2020

to

14 June 2020

Departure location

Italy 38020 Commezzadura (Val di Sole) Via della Fantoma, 8

Arrival location

Italy 38020 Pellizzano (Val di Sole) Piazza S. Maria

Website

Event organiser

Ferruccio Lissidini

Inserted By

Phone

+393456566147

Email

Document
International Regularity Competition
Precision and Average Speed Trials - Concours d'Elegance
Historic Car Race "SUPERCLASSICA 2020" by ACI Sport
69 time trials.
6 average trials with 10 secret readings.
5 Concours d'Elegance with
ranking in 5 different Locations: Pinzolo - Malè - St. Moritz - Pellizzano - Ossana.
99 eligible cars, built before December 31, 1981.
6 Alpine passes crossed, symbol of historical races of the past: Carlo Magno, Tonale, Gavia, Foscagno, Forcola, Bernina.
6 fairytale picturesque Lakes: Santa Giustina, Molveno, Garda, Ledro, Engadina, Poschiavo.
12 Tourist Areas touched: Commezzadura, Andalo, Riva del Garda, Ledro, Pinzolo, Madonna di Campiglio, Malé, Bormio, Livigno, St. Moritz, Ponte di Legno, Pellizzano.
Tourist package "Special Followers": 4 days of full immersion in the exciting atmosphere of the competition, close to the legendary cars of the past. Same itinerary and stops for tasting local products.
High-level hospitality with the advantage to stay at the end of each day in the same four stars hotel, without any transfer stress, with its complete spa.
Tasting typical local products, welcome drink, coffee break along the route, as reported in the schedule.
A rich prize pool, as usual, of exclusive value, prizes for any classified crew, VIP Package to all verified participant.
Tags: