Belgium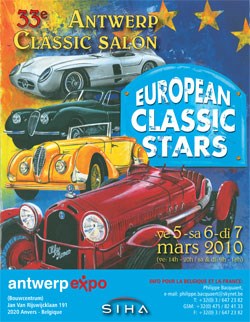 Event Type

Swapmeets/Autojubble

Date

05 March 2010

to

07 March 2010

Location

Belgium Anvers 2000

Website
Sorry, we didn't receive an English translation
33rd Antwerp Classic Salon 2010
From 5th – 7th March
ONE OF THE BEST IN EUROPE
Theme: European Classic Stars
The 33rd edition of Antwerp Classic Salon is going to the startline. On Friday, 5 March 2010 we start from Pole-Position and open our doors at 2 pm for 25,000 visitors from all over Europe.
"European Classic Stars" is the theme of the Antwerp Classic Salon 2010, which is one of the top classic events in Europe. Apart from the large selection of British Classics, there will, of course, be numerous Italian, German, French and American Classics in the spotlight again.
Antwerp Classic Salon – A magnet for quality and quantity
On a total area of 20,000 square metres, distributed in 4 halls, 350 exhibitors present:
* Theme "European Classic Stars"
* Veteran, Vintage and Classic Cars,
* Exotic and Prestige Cars
* Historic Racing and Sports Cars, Tuning for Classics
* Young Classics, Vehicle Refinement and Restoration
* Restoration Companies
* Automobilia, Literature, Insurance Companies, Accessories, Lifestyle, Race Clothing, Wheels
* 50 Vintage car and Motorcycle clubs as well as Museums Prizes for the most beautiful club presentations
* Concours d´Elegance for Cars
* Parts - new and used
Heures d'ouverture
Vendredi 5 mars 2010 de 14h à 20h
Samedi 6 mars 2010 de 9h à 18h
Dimanche 7 mars 2010 de 9h à 18h
Prix d'entrée
Adulte 14,00 €
Ètudiants et rentiers 65+ ans 12,00 €
Groupes de 20 personnes p.p. 12,00 €
Enfants (de moins de 10 ans en compagnie de adulte)
entrée gratuit
Bon de réduction sur le site de la FBVA: http://www.bfov.be/images/stories/Latest%20News/ACS%20REDUCTION.pdf