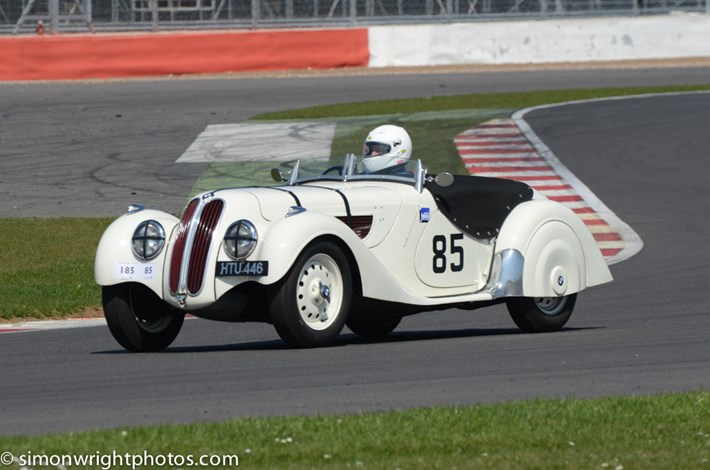 VSCC Spring Start 2013
As April ends, so the Vintage racing season starts in England with the annual Vintage Sports Car Club (VSCC) Spring Start meeting, this year extended to two days at Silverstone. Blue skies and much warmer weather greeted the large fields that had entered for this prestigious meeting. The Sunday races were televised on Motors TV, a first for the VSCC.
Saturdays packed program started with a Scratch race for pre-war cars which saw victory for Mike Painter (Car 80) in his MG Kayne. There were two races scheduled over the weekend for the F3 500s with the Commander Yorke Trophy dominated by Steve Jones (car 74) at the wheel of a Cooper Mk10, who won both races. The Amschel Rothschild & Patrick Lindsay Memorial race saw an interesting battle between Philip Walker (Car No1) Lotus 16, Julian Bronson (30) Scarab Grand Prix and Tony Wood (281) in the Maserati TEC MEC who finished in that order with only 6 seconds covering the top 3 at the finish.
The Fox & Nicholl Trophy race was won by Charles Gillett (105) driving a Frazer Nash Super Sports. The Big race of the day, the GP Italia & Lanchester Trophies race was won by Geraint Owen in a Bugatti T35B from Robert Carr in his AC/GN Special. Interesting battle in this race was between Chris Williams in his might 24 litre Napier Bentley, which smoked the tyres almost every lap out of Luffield, and the small 3 wheeled Morgan Super Aero of Sue Darbyshire, who lap after lap was like a trailer attached to the back of the massive Napier Bentley through Luffield. The Napier eventually managed to open up a gap to the Morgan using his power down the straights and they finished 6th and 7th overall. The HGPCA Pre-66 Grand Prix cars race was won by John Harper in a Brabham BT4 on Saturday and Jonathon Hughes in a Cooper T53 on Sunday.
A special race on Saturday was the George Abecassis Centenary Trophy race, and there was a display of George Abecassis cars in the paddock. Mark Midgley (284) took overall honours, winning in his Aston Martin DB3 while Jonathan Abecassis (Grandson of George) at the wheel of an Austin Healey 100-4 finished 7th overall and 2nd in class.
© Simon & Janet Wright.