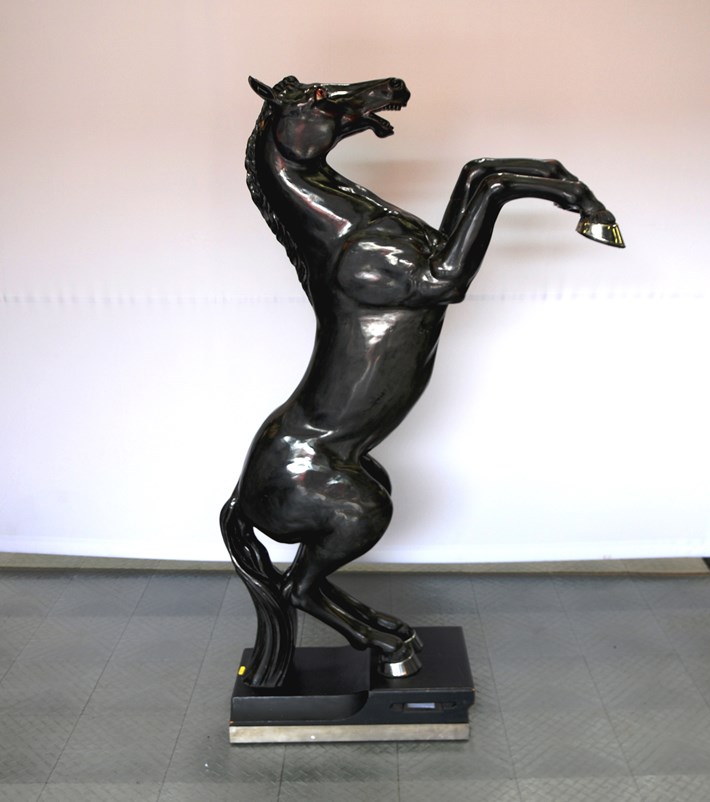 communiqué de presse concernant la vente du "Cavallino Rampante" qui a appartenu à Enzo Ferrari puis à Jacques Swaters en 1988, et vendu aux enchères à Monterey dans quelques jours.
The Ferrari Prancing Horse will be offered for the first time in the United States at Russo and Steele's Monterey Auction Event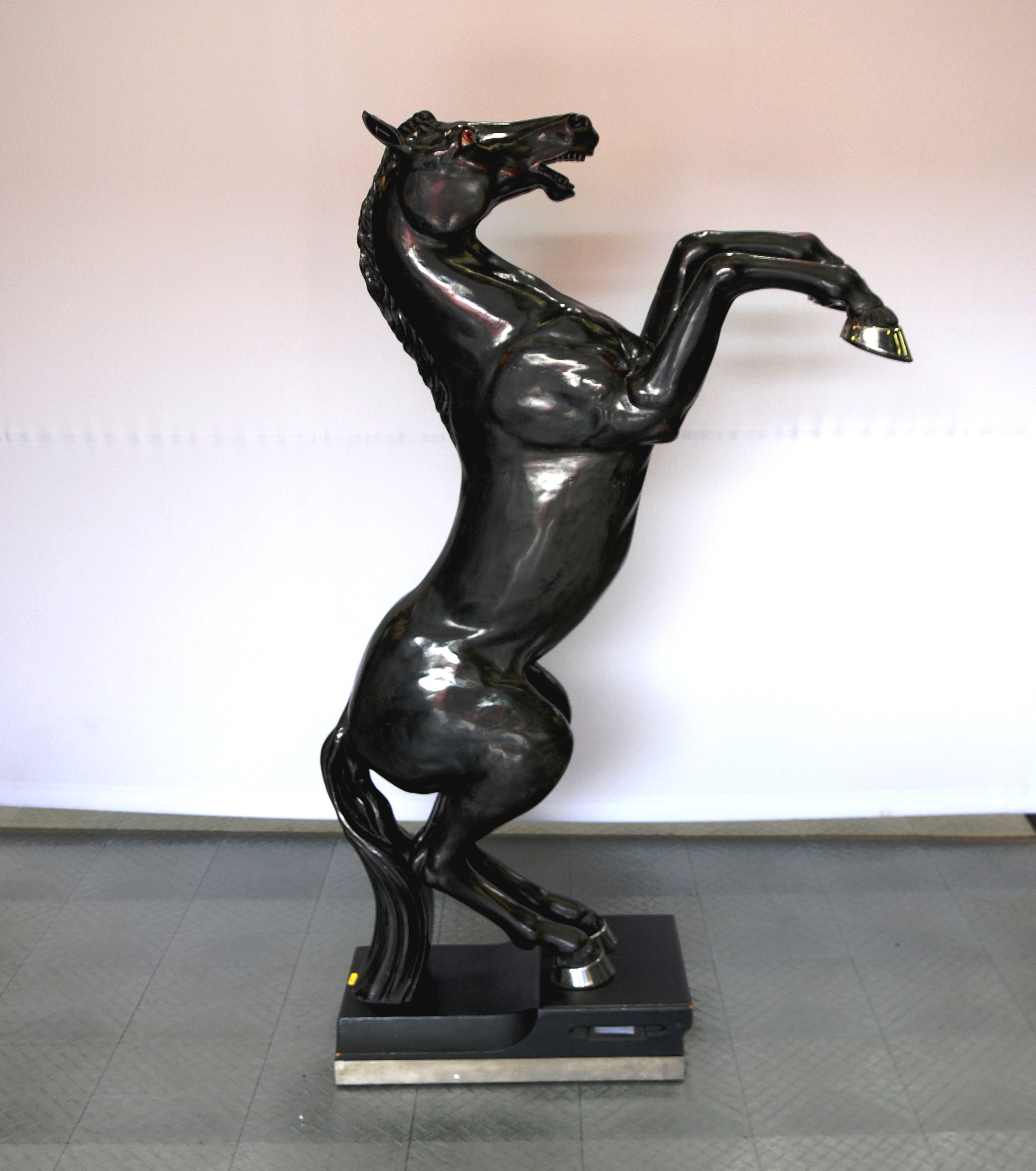 For Immediate Release
Monterey, California (August 3, 2012) – As noted by Ferrari Market Letter, Russo and Steele not only continues to get exceptional prices for Ferraris, but it has become something of a specialty for the auction company. This year at its 12th Annual Sports and Muscle Monterey auction event Russo and Steele is will not only be offering a stellar selection of Ferrari's on the block, but also the famed Ferrari Prancing Horse or "Cavallino Rampante."
The Ferrari Prancing Horse has been used since 1929 when it first appeared on Ferrari company letterhead. In 1932 it appeared on the Alfa Romeos that were campaigned by Scuderia Ferrari at the Spa 24 Hours in July. As the trademark for Ferrari, the Prancing Horse is one of the worlds most recognized symbols.
The origin of the famed symbol originates in 1923 when Enzo Ferrari won a race in Ravenna and was introduced to Countess Paolina the mother of an ace of the Italian air force and a national hero. He had painted a red horse on the side of his plane and the countess suggested Enzo use it on his cars for luck. Enzo chose to have it painted in black and he added a canary background as that was the color of the city of Modena his birthplace.
In the late 1960's a large wooden sculpture of the Prancing Horse was presented to Enzo Ferrari and he used it to decorate his personal office at Ferrari's Fiorano circuit. The house, where his office was located, holds a revered place in Ferrari history as he owned it personally and it was where he would meet with his drivers and technicians to discuss racing strategy. The black Prancing Horse is prominently features in photographs and in video of an interview with Enzo Ferrari and his son Piero. At one point in history it was thought that two were in existence but J. Swaters and Mr. Franco Gozzi, Enzo, Ferrari's personal secretary, recall when the sculpture arrived at Fiorano and confirm that there was only one.
Prior to Enzo Ferrari's death in 1988 the Prancing Horse sculpture was gifted by him to Jacques Swaters, one of his few close personal friends. Swaters was a noted Belgian race driver and owner of Garage Francorchamps, the first authorized Ferrari dealership in the world. He went on to become one of Ferrari's most important dealers and a major collector of anything related to the marque. The Ferrari 456 GT was introduced at Swaters dealership and "Blue Swaters" was introduced as a Ferrari color to celebrate his 40 year partnership with Ferrari.
During his lifetime Jacques Swaters collected everything about Ferrari, original documentations, important vintage cars, sculptures, and other automobilia. With his collection he opened "the bunker" as he would call the Galleria Ferrari, an impressive assortment in which features many gifts given personally by Enzo Ferrari; for example 1 of only 3 bronze crucifix crafted at Ferrari's foundry, on the occasion of the pope's visit to the Maranello factory, as well as the Prancing Horse sculpture, that was proudly displayed behind Enzo Ferrari's desk in his personal office at Ferrari's Fiorano circuit for 25 years. The museum also houses the only Ferrari four-door ever made, the "Pinin" prototype, the Ferrari GTO Evoluzione, a Ferrari California and other rare and important cars of the Italian brand.
The Prancing Horse was displayed up until 2008 at Swaters "Galleria Ferrari" at which time it was obtained by the consignor. The fact that it is the only original one in existence and was so important to Enzo, makes it one of the most important pieces of Ferrari memorabilia to ever come to market. It has been owned and cherished by the most prominent names in Ferrari history and would be the highlight of any Ferrari collection.
The 12th Annual Sports and Muscle Monterey Auction event, held August 16-18, 2012, will hold a special unveiling of the Cavallino Rampante on Saturday, August 18th from 3PM -5PM. Potential bidders and the public are welcome to attend and get an up close and personal view of the Ferrari Prancing Horse prior to its being auctioned off to the highest bidder Saturday night. It is scheduled to be lot number one prior to the automobiles crossing the block.
To download high resolution images of the Cavallino Rampante visit the Russo and Steele Website.


About Russo and Steele Collector Automobile Auctions
Russo and Steele Collector Automobiles is one of the nation's premier collector car auctions; specializing in the world's finest European sports cars, American muscle cars, hot rods and customs. Its auctions each year attract clients all over the globe not only because of its reputation for stellar collector automobiles, but also unique auction experiences unattainable at any other collector car auction in the world. Its auction events take place with its signature auction in Scottsdale, Arizona every January, and Monterey, California every August. For additional information please visit www.russoandsteele.com or call 602.252.2697.