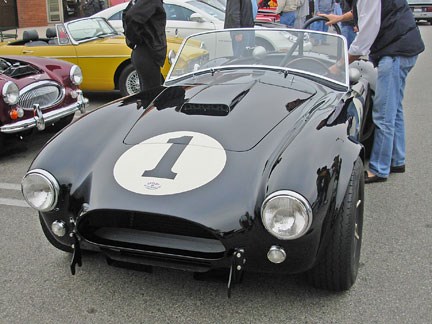 When Bruce Meyer of Beverly Hills told me in a detached tone that he had bought an old Cobra, he didn't tell me how old it was.
It later turned out to be the second Cobra ever built.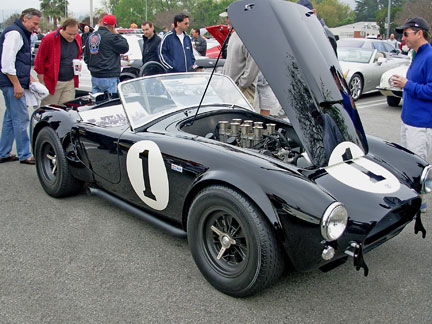 This was the first Cobra ever offered to customers - a car of real historical value.
Three years earlier, when Bruce Meyer heard about a Cobra at an auction in Europe, he asked his friend who had seen the car at the auction what the serial number was, and at first he couldn't believe his ears: CSX2001.
Since Shelby himself had the CSX2000, which had always been known as the very first Cobra and had been in his possession since 1962, Bruce had to admit that this car was the first one sold.
The car had had a chequered past since it was built almost 50 years ago, having been repainted several times and its bodywork modified at least once. But it had enough historical documentation available to Bruce to prove that it was authentic.
One of the most interesting things that transpired from the unearthed documents was that the car was originally built with a 260 cubic inch engine. Of course history shows that after making a few 260s, the factory opted for the 289 when that engine became available. Some owners of 260 Cobras came back to the manufacturer and asked for the exchange, not realising of course that 40 or 50 years later their car would be worth much more if they had kept it with the original engine.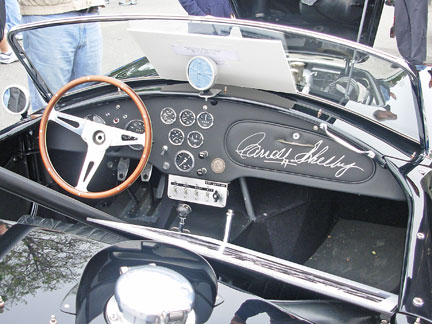 The car had also been fitted with "worm and sector" steering instead of the later rack and pinion, and was changed when it passed into the hands of a French mechanic, approved by   Shelby, for an upgrade including the 289 engine.
 The car was first sold by Ed Hugus, the first Shelby dealer in Pennsylvania. The way Hugus told it to me was that Shelby was broke after building the first Cobra: "He had orders for the No.   2 and No. 3 cars but he couldn't afford them so I said, 'I'll take them'. Hugus was a Porsche dealer, and he imported several other makes. His racing career included several appearances at   the 24 Hours of Le Mans.csx2001-engine-top
 Hugus sold the car to a Dr. Richard Milo in Pennsylvania. Apparently the doctor found the Cobra a bit scabrous on ice and snow and in the cold to boot and traded it for a Porsche, not   suspecting that the Cobra would one day be worth 100 times the price of the Porsche.
A next owner on the American side of the ocean was a man named Lloyd "Lucky" Casner, an airline pilot, who was also a used Cadillac dealer and occasional racer. He met and hired Carroll Shelby to drive various Maseratis, usually "chicken cages" without bodies. His team was called Camoradi. Eventually, his protégé, Shelby, proved to have a champion's touch and became far more famous behind the wheel than Casner. This did not embarrass Casner so much as prevent him from lining up to buy one of Shelby's first Cobras. He raced it for a while and then sold it to a Frenchman, and from then on the car underwent transformations. Casner himself was not as lucky as his nickname suggested, as he was killed in a Maserati during testing at the 1965 24 Hours.
After receiving the car from Europe, Meyer sent it to McCluskey of McCluskey Ltd. in Torrance, California, to have the bodywork revised. McCluskey had previously restored the CSX2000 for Shelby, so he was the perfect choice to rebuild the next car.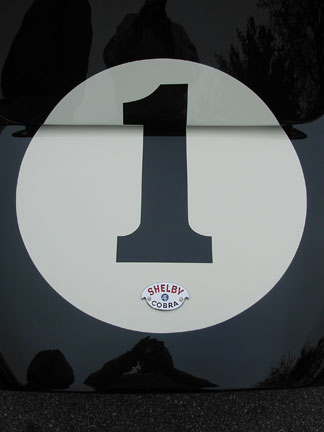 McCluskey had to replace the entire nose when it was decided that it didn't fit, and he also redid the rear wings, making it the only car in the original CSX2000 series with this particular rear wing shape.
The wheels are Halibrand, painted black to protect the magnesium.
Meyer also sent the 289 engine to Lynn Park, Cobra's No. 1 expert, in La Caneda, California, for rebuilding. He included an order to install Weber carburetors identical to those fitted to the factory's 1963 race cars since the car had had a long racing career in France where it passed through the hands of several owners. The problem with restoring a car to race condition is 'which race?' Many cars were different for each race. Meyer decided to have his finished with the racing look of the early 1960s.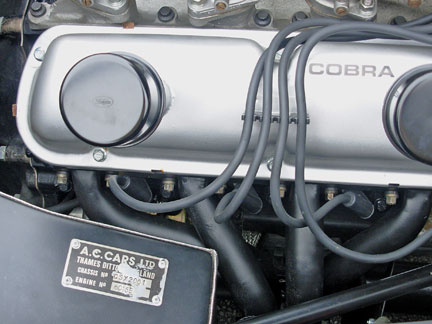 The final paint scheme chosen by Meyer was jet black, the colour worn by the cars coming out of Sherlby's first workshops in 1963.
Ironically, the car had been raced in Europe with a shell roof that Shelby himself had claimed was "the ugliest roof you can put on any car," let alone a Cobra. From the side the roof looked like the 250LM. This roof was apparently permanently fixed in place. When Meyer received the car, there were indications that the shell roof had been fixed.
The dashboard has the aluminium panel under the instruments in the usual Shelby racing style, to accommodate levers presumably controlling the differential cooling pumps etc.
What makes this car unusual is that it is apparently a Cobra that was built, sold and raced without ever having passed through the Shelby workshops in either Venice or Los Angeles. Yet it is a 100% Shelby American Cobra and a 100% Shelby American product.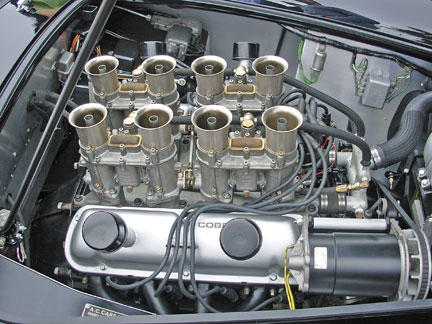 Meyer is a wise buyer. When he heard about it, faced with a quick decision, he called two experts: Harley Cluxton and Lynn Park. Harley is a famous Cobra buyer-seller who in 2008 sold a 427 Cobra with twin superchargers for $5.5 million at auction, and Lynn Park is the owner of eleven authentic A.C. Cobras. Both told Meyer, "Buy it. He already owned a 427 S/C that could be Cobra enough for anyone, but let me tell you that when you get into Cobra history, the temptation to dig up old cars can become an obsession.
CSX2001 was previewed at the Motorsports Gathering at the Quail at the Pebble Beach Concours d'Elegance in 2008, and will undoubtedly be featured in future classic car shows. It seems incredible that all the other Cobra collectors in the USA missed this car, but because it was so well known to European enthusiasts, it was considered "just another Cobra" and not the historic model it turned out to be.
You had to pay attention...and Bruce Meyer did.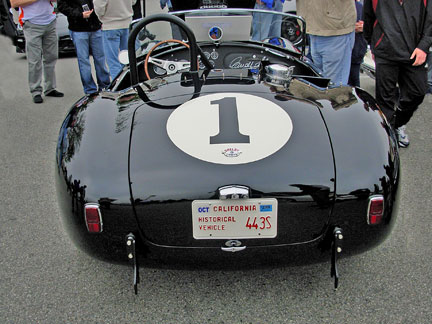 Words: Wallace Alfred Wyss
Photography: François de Pouqueville