Sint-Martens-Latem, Belgium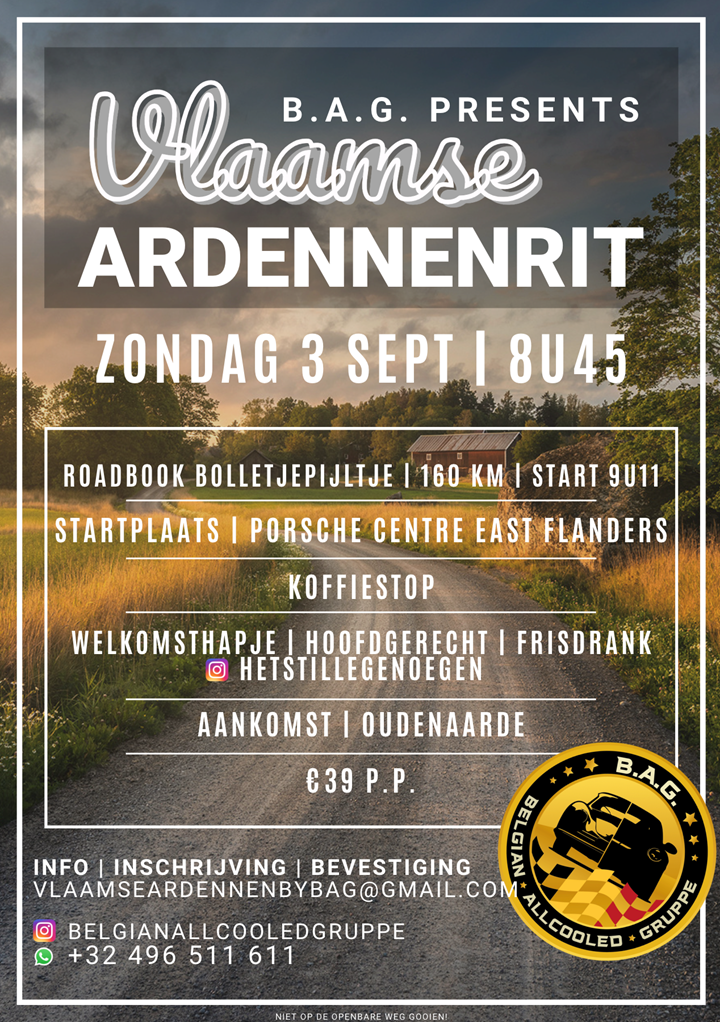 Event Type

Rally, Tour

Date

03 September 2023

Location

Belgium Oost-Vlaanderen 9830 Sint-Martens-Latem Kortrijksesteenweg 11

Event organiser

Belgian Allcooled Gruppe

Inserted By

Phone

+32496511611

Email
Sorry, we didn't receive an English translation
Belgian Allcooled Gruppe is een vriendengroep met Porsche als gemeenschappelijke deler.
Water of lucht? Transaxle? "Afwijkende" koplampen? We zien ze allemaal even graag!
Op zondag 3 september komen we samen om een roadbook door de Vlaamse Ardennen te rijden. De vele smalle en kronkelende baantjes tussen de velden maken er eerder een mooie toertocht van en waar topsnelheden niet altijd de focus zijn.
Plaats van afspraak: Carrera Motors te Sint-Martens-Latem. Wees welgekomen vanaf 8u45. Om 9u11 vertrekken we voor een roadbook van ongeveer 160km.
Tussenin voorzien we een korte koffiebreak, lunchen doen we in Het Stille Genoegen gelegen op de taalgrens.
Inschrijvingsgeld voor de roadbook, koffiestop en lunch: 39 euro per persoon.
Meer weten? Shoot!
Onmiddellijk overtuigd en direct inschrijven? Stuur ons dan een mailtje met de wagen en nummerplaat waarmee je deelneemt, hoeveel inzittenden en diens namen, en of je graag vlees of vegetarisch alternatief als lunch wenst. We garanderen je snel te reageren. Na betaling ontvang je nog een bevestiging van ons.
Inschrijven = overschrijven. Vandaar een warme oproep aan alle deelnemers om alvast het nodige te doen :)
Ladies and gentlemen, start your engines!
Tags: