Patras (GR), Greece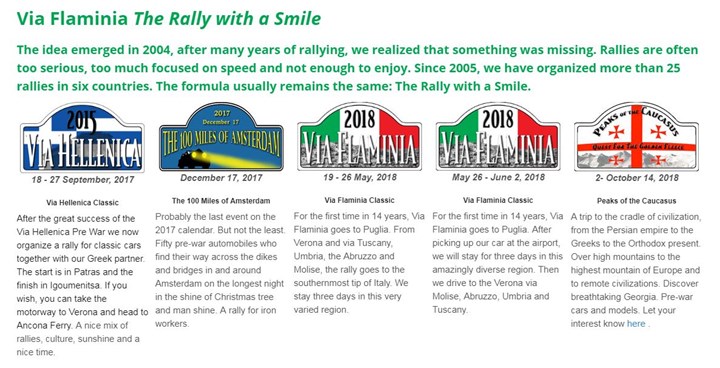 Event Type

Shows, Festivals

Date

18 September 2017

to

27 September 2017

Location

Greece Patras (GR)

Website

Phone

+31624234345

Email
The Via Hellenica Classic 

In 2015 we held the Via Hellenica for pre-war cars. It was a great success, judge yourself and look at the page "previous rallies" at www.via-flaminia.com. 

Before 2017, we invite classic cars to 1974 for a similar rally. 

The rally will certainly not stop at any excavation, but it is impossible to escape some highlights of Greek antiquity. For example, we will have lunch there and visit the antiquities. See also the rally route page. 

Those who want to be able to take the motorway train from Düsseldorf to Verona on Friday September 15th. The ferry departs from Ancona on Sunday. The ride to Ancona is a magnificent ride of no more than 400 km.

The ferry brings all cars to Patras where the rally officially begins on 18 September 2015. The rally goes first along the Peloponnese coast and via Olympia to the south with its many forts. Through small villages it then goes north over mountain roads to Nafplio. We stay there for two days so you can visit the incredibly well-preserved amphitheater of Epidauros or the fortified city of Mycenae from the 2nd century BC. We take the Corinth street to the mainland and exchange the lovely coastal roads for the rugged mountain range. We visit the oracle of Delhi and if the gods are good to us, we continue our way over ever-decreasing mountain roads to the Meteora monasteries.

On Wednesday we drive to Igoumenitsa where the ferry leaves in Ancona late in the evening. We will arrive there on Thursday, September 28th. On Saturday, the car train from Verona returns. 

Depending on the road conditions, 130 to 220 km per day are driven. The hotels, especially those on the coast are amazing. There is limited availability for 25 classic cars up to 1974.