BASTOGNE, Belgium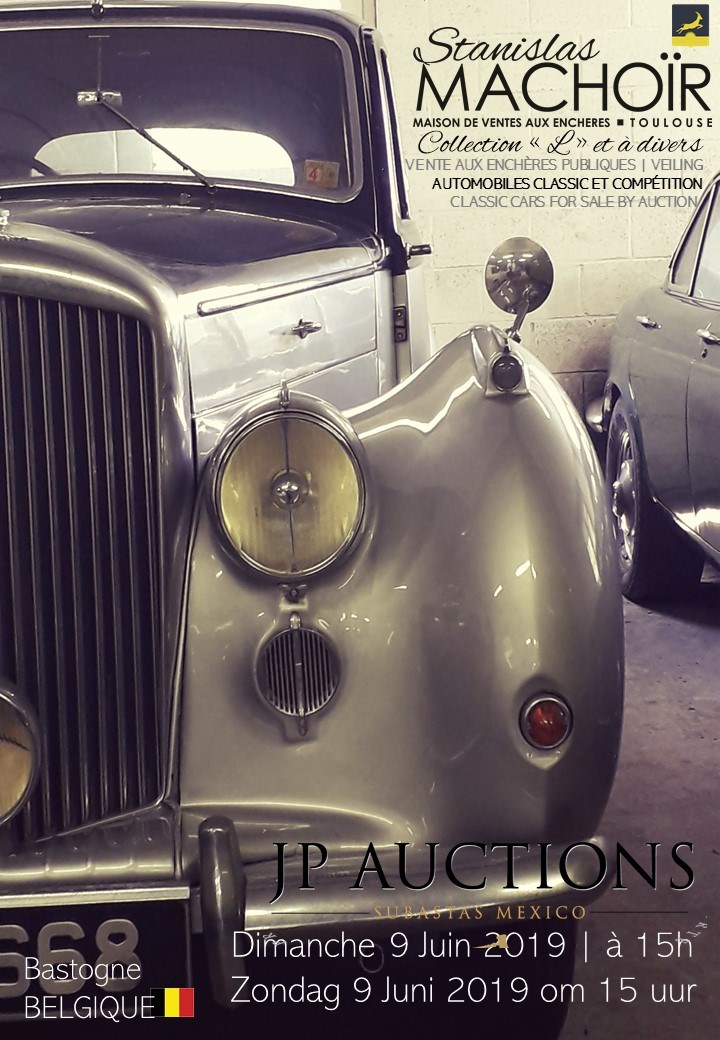 Event Type

Sale, Auction

Date

08 June 2019

to

09 June 2019

Location

Belgium ARDENNES 6600 BASTOGNE

Website

Event organiser

SVV STANISLAS MACHOÏR & JP AUCTIONS

Inserted By

Phone

+33627550816

Email

Document
Sorry, we didn't receive an English translation
Sale by Stanislas Machoïr Auction House on SUNDAY 9th  JUNE at 3 pm in BASTOGNE, Belgium.
Viewing on SATURDAY, June 8th  from 10h to 12h and from 14h to 19h and SUNDAY 9th June 2019 from 10h to 12h.
BIDDING ONLINE? www.stanislasmachoir.com
ENTRIES CLOSES ON MAY 30, 2019.
To include your cars on this sale, please contact Roamhy MACHOÏR-HERAS at the Auction House  +33 627 55 08 16 |
[email protected]
Vente aux enchères publiques par l'Etude Stanislas Machoïr le DIMANCHE 9 JUIN à 15h à BASTOGNE, Belgique.
Exposition publique le SAMEDI 8 Juin de 10h à 12h et de 14h à 19h et le DIMANCHE 9 Juin 2019 de 10h à 12h.
Vente à suivre également sur le live : www.stanislasmachoir.com
CATALOGUE EN PREPARATION
CLOTURE DES INSCRIPTIONS : LE 30 MAI 2019.
Pour inclure des voitures à cette vente, veuillez contacter l'Etude au +33 627 55 08 16 | [email protected]
En subasta pública el domingo 9 de Junio de 2019 en la Ciudad de Bastogne (BELGICA)
Exposición publica el Sábado 8 de Junio de 10am a 12pm y de 2pm a 7pm 
Subasta presencial y en live: www.stanislasmachoir.com
Contacto: Roamhy MACHOÏR-HERAS [email protected] +33 627 550 816
Catalogo en preparación | Cierre de inscripciones el 30 de Mayo de 2019
Tags: