South Africa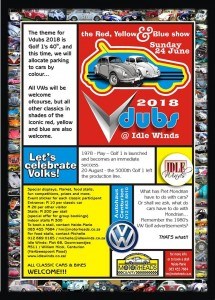 Event Type

Shows, Festivals

Date

24 June 2018

Location

South Africa Idle Winds Lodge and Conference Centre Plot 68 Doornraandjes R511/William Nichol Centurion, 0014 South Africa

Website

Phone

+27834557684

Email
This year's event will be a little different…..
Stall holders: while still to be advance-booked, will not be designated a specific place – first come, first to choose – however, food stalls will be separate from the rest of the market.
Show cars: Vdubs, Citi Golfs, and other classics will be parking according to their colour – red, yellow, blue, etc – except clubs which in advance state that they'd like a block-parking area ….