Italy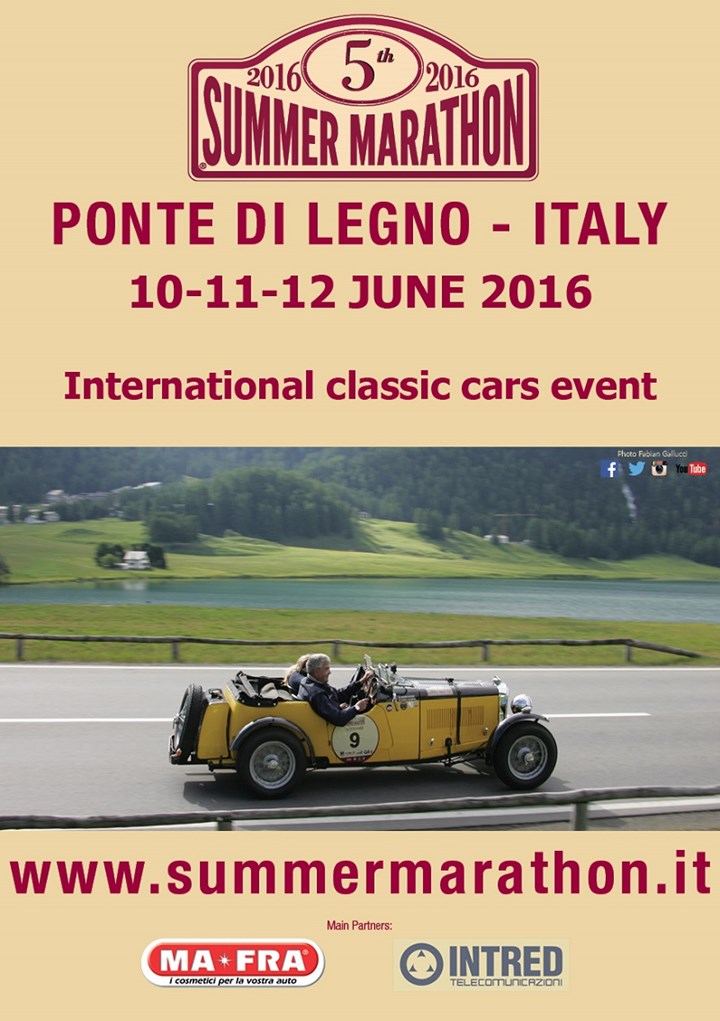 Event Type

Rally, Tour

Date

10 June 2016

to

12 June 2016

Location

Italy 25056 Piazza Europa

Website

Event organiser

Adamello Eventi

Phone

+39 345 6566147

Email
Sorry, we didn't receive an English translation
Old Motors Club Bergamo, as Organizer, in partnership with Adamello Eventi, promote an international classic cars event, with the Patronage FIVA – ASI, 63 classic regularity tests, 5 tests at imposed average speed, 5 Concours d'Elegance in 5 different locations.
90 cars admitted of historical and technical value, built and registered before the 31th of December 1968.
The Organization may accept the application for the registration of twenty-five cars built before 1976, of sporting and historical interest.
There will be a "clover" route with PONTE DI LEGNO fulcrum of each day, famous tourist resort equipped of important and specific infrastructures for events and hotels renowned for their international prestige.
THREE days, 704 kilometers, Alpin Passes that have marked the history of motor racing of the past: Passo Tonale, Passo Gavia, Passo Foscagno, Passo Forcola, Passo Bernina, Passo Maloja, Passo Aprica, Passo Presolana.
Stops for tasting local typical food and coffee-break in wonderful breathtaking locations: Pellizzano, Livigno, Sankt Moritz, Berbenno in Valtellina, Lovere, Malonno, Ponte di Legno.
Tourist area of cultural, historical, food and wine value: Alta Valle Camonica, Val di Sole, Val di Non, Alta Valtellina, Livigno, Engadina, Laghi Alpini di Sankt Moritz and Silvaplana, Val Chiavenna, Alto Lario – Lake Como, Valtellina, Valle di Scalve, Lago d'Iseo, Vallecamonica.
As usual, rewards for the assignees of various special categories, gifts to everyone besides to typical produtcs box, for the participants Vip Package which contains official clothing and exclusives cadeaux.
Side Event
Concours d'Elegance in five different Locations selected for their excellences, landscapes, history, culture, food and wine products: Pellizzano – Val di Sole, Livigno – Valtellina, Berbenno in Valtellina, Lovere – Lago d'Iseo, Malonno –Vallecamonica, everyday there will be a voting to decree the car winner of "Radio RTL 102.5's Silver Plate".
Presidents of the Committee, chaired by journalists of five prestigious classic cars magazines: La Manovella – Italy, Classic & Sports Car - UK, Motorklassik – Germany, Petrolhead - Belgium, Swiss Classics Revue - Swisse.
Contest "The Queen of V° Summer Marathon" with "like" by Facebook followers for the assignment to most voted car of "Gran Coppa Ma-Fra".
The 1st Tribute Lancia Delta Integrale in partnership with the Turin's official "Lancia Delta Integrale Club".
Reproposed, after the great success of previous editions, the Tourist Package for the "Official Followers", only reserved for twenty-five accreditated only.
Summer Marathon
An extraordinary worldwide ambassador
q to promoting the tourist, hystorical, cultural,
food and wine excellences of the area crossed.