United States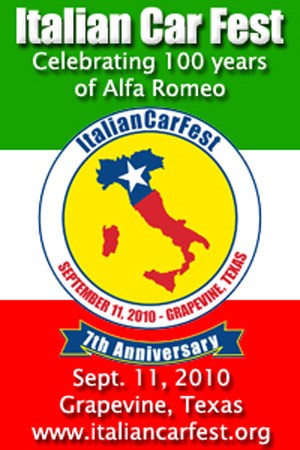 Event Type

Swapmeets/Autojubble

Date

11 September 2010

Location

United States

Website

Email
Sorry, we didn't receive an English translation
The Italian Car Club of the Southwest is proud to present ItalianCarFest 2010, the finest show of all-Italian vehicles in the Southwest. This year is our Seventh Anniversary!
Please join us as we display automobiles and two-wheelers at Nash Farm, a unique, 150 year old historic venue in the heart of Grapevine. As a part of our great collection of exciting Italian machinery, we will be featuring a strong display of Alfa Romeos as we celebrate Alfa's 100th birthday.
Vehicles will be positioned on the show field so you can walk entirely around them and chat with owners about their special cars and two-wheelers. As usual, visitor admission to the show is free, along with plenty of free parking.
While at the show, please be sure to "dine" with us and enjoy delicious food and drink, available for purchase at reasonable prices all day. Wine will be available at the Cross Timbers Winery booth; the Syracuse Sausage Company will be selling tasty Italian sandwiches. Indulge yourself with Italian gelato from Napoli's Italian Café. Soda and water will also be available.
Do not miss ItalianCarFest 2010 – mark your calendars now!
For show entrants, more information can be found by clicking here.
Please keep visiting this website - we will be updating it on a regular basis. And please sign up below for our ICF email list to receive ICF news!