United States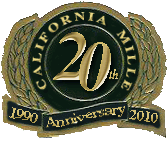 Event Type

Rally, Tour

Date

25 April 2010

to

29 April 2010

Location

United States

Website

Email
Sorry, we didn't receive an English translation
The California Mille got its start when John Lamm of Road & Track and I went to the 1982 Mille Miglia in Brescia, Italy with my 1955 Alfa Romeo 1900 Zagato. We were the only Americans there. John did a Road & Track article and Americans discovered the Mille Miglia.
I went back each year in various Alfa Romeos. Then in 1990, the late Bob Sutherland started the Colorado Grand. Ivan Zaremba and I took my 1959 Alfa Romeo Giulietta Sprint Veloce. One night during that event, a group including Ivan, the late Gil Nickel, Lou Sellyei and me had dinner. Gil suggested that we start a California event, warning that if we didn't someone else might, and we might not like their style.
On returning to San Francisco, my first call was to long-time friend and Alfa Romeo collector, the late Ken Shaff. Ken's concepts concerning size and structure of the event have been a key element of our success. Ken always insisted on keeping it small – about 60 cars. In our early days, he did a lot of route selection, exploring endless backroads. Unfortunately, Ken passed away a few years ago. His shoes have never been filled.
The first California Mille, which was actually recognized by the Brescia group and sponsored by Alfa Romeo, was run in October 1991. About 50 cars participated. During the 1980's, as we ran in the Italian Mille, we couldn't help but compare it with an imaginary California event. At first we didn't know exactly where to start our event. But after a few years, we discovered that the Fairmont Hotel, on prime Nob Hill in San Francisco, would like to host us. They were willing to let us close the block in front of the hotel (and generously put up with extreme inconvenience in receiving guests). The Nob Hill residents welcomed us in spite of the noise and traffic disruption. By now, the California Mille has become a city institution. Quite amazing for such an anti-car city. We are currently trying to get the town of Sausalito to be as welcoming for our finish.
The wine country and north coast of California offer a combination of great drivers' roads, light traffic and charming destination hotels. We felt that we could equal Italy on hospitality, while offering a better driving experience because of the endless choice of scenic, challenging, traffic-free coastal and mountain roads.
The key to making our event a success were two early decisions: one, to keep the event small (60-65 entries) in order to let us use charming, smaller hotels and restaurants; and two, rather than just using a map, Ken and I always drove every mile to get a feel for how the event would flow. We still do this, and try to have segments suitable for various types of cars.
The "goodies" have been enticing too. An event jacket seems to be important. If you're an old-timer you already have too many jackets. But if you're a first-timer, a jacket is important. We've often spent way too much, but we've had some spectacular event jackets.
Some years ago, sponsorship was easier to get. With our larger budgets, we were able to commission original automotive sculpture, one for each car, by artists such as Barry Braun, Bruce Wheeler, Paul Nesse and Steve Posson.
(Photo sculpture)
From the first, we always supplied souvenir photos. The late Bob Dunsmore was always the official photographer for the Monterey Historics. He became our photographer, and the sight of his huge form recklessly standing in the middle of some road to get the perfect shot will be recalled by all of those who witnessed him.
Bob passed away a few years ago, leaving a big void. But Dan Radowicz, who handles all of the organizational duties, came up with John Fulton. And whereas Dunsmore provided us with lovely individual photos, Dan and John have collaborated to produce, for each entrant, a photo album that is truly a treasure. They devote one page to each car, with a facing page of general scenes that evoke the spirit of the event.
The range of cars entered over 20 years is extraordinary. We attempt to apply our pre-1958 rule, but there have been exceptions, particularly for noteworthy cars that are pre-58 in character. For instance, a Jaguar XK-150 is closely related to an XK-120, so might be accepted, while the much-more-modern E-Type would be impossible to justify. Perhaps with the passing of time, and further aging of strictly-eligible cars, we'll have to ease up, but we're in no hurry to do so.
Alfa Romeo Giuliettas and 1900s, Porsche 356s and Jaguar XK-120s have been popular entries. Pre-War Alfas and Bentleys, and this year, Lancias, add spice, as do the American cars such as Chrysler 300, Carrera Panamericana Lincolns, Fords and Buicks, which would have done well had America run a Mille Miglia.
Even as the Mille Miglia spirit spread to Argentina, Japan and Australia, those who are lucky enough to have done them all would likely agree that California offers the best playground for our cars. The savvy participants know who the most important people on our staff are the mechanics. Conrad Stevenson and Jere Brown have been our technical support for years. And if they can't fix your car, George Powning's flatbed will rescue you. The mechanics' job is especially challenging. They are allotted 30 minutes to fix your car; our thinking is that the problem is usually minor and can be dealt with in 30 minutes. If it can't be fixed in 30 minutes, it's probably a major breakdown, so we need to free-up the mechanic to deal with other cars' troubles.
One year a mudslide ended our day at lunchtime. The Benbow Inn, near Garberville, was able to accommodate some of us. Others went to another hotel in town. Benbow Inn managed to feed 150 people dinner on short notice. Their bar had an all-time record day. We were able to resume our drive the next day. This occurrence proved beyond doubt that we thrive on adversity!
We've used various routes over the years, but the classic is the area we'll use this year, the northern coast of California. We've often compared this route to that of the original Mille Miglia, on which Rome is the most distant point from the start/finish. In our case, either Ferndale or Eureka has been the most remote point on our route and, while neither can compare with Rome, the roads getting there and back might make the Italians jealous.
2009 was a big year for the California Mille. It marked our first association with Chopard, the watch of the Mille Miglia. Chopard, over the years, did more for the Mille Miglia worldwide than the event organizers did! Our association with Chopard is one we're very proud of. We're overjoyed to welcome them back in 2010.
The best part of the entire California Mille experience is the friendships that have emerged. Any of our merry little band who goes to London probably calls Stuart Passey who, with Jan, runs the Mille every year in his Giulietta Spider Veloce. If you go to South America, you might put Columbia on your itinerary just so you could visit Camilo Steuer and his group of motorhead friends. In Australia, you can't miss Melbourne, where you'll find David Reidie and Max Hobson. On the way back, you might include Japan so you could go out to Kobe and have a visit with Katsutushi Yamaguchi. And so it goes. Wherever you go, there's a Mille Miglia friend, with a photo on his wall that looks like one you treasure. The only question: Did you just pass him, or is he about to pass you (good thing it's not video).
***
For further information: Martin Swig, 415-990-9992
For press information: Ron Wren 415-433-1040