Italy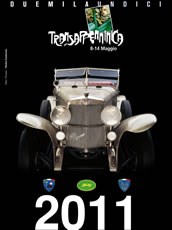 Event Type

Rally, Tour

Date

08 May 2011

to

15 May 2011

Location

Italy

Website

Email
Sorry, we didn't receive an English translation
Dear Friend,
For the Transappenninica 2011 Rally we envisaged an unusual formula which we hope will meet your desires and interest: a one week tour focused on three main themes:
Culture - Landscape - Wellbeing
After the gathering in Cervia/Milano Marittima, we will spend two nights in Bagno a Ripoli, very near to Florence, a City which is worth more than a single visit in a lifetime (Culture).
Then, by driving through Tuscany and a stretch of sea, we will reach the Elba Isle, a pearl in the Tyrrhenian Sea and so ?loved? by Napoleon! (Charming landscapes).
We will then move towards the famous and ancient Saturnia Thermal Baths where we are going to stay for two more nights and we will be able to relax body and mind into a healthy environment (Wellbeing).
We will organize tours to visit interesting places around the Tuscan Maremma and we will see the renowned ?butteri? (cowherds of the Maremma)
After having driven through the Apennines, the last stop will take us back to Milano Marittima for the parting evening and Gala Dinner.
After the long but appreciated Rally of the 25th Anniversary, we are going to enjoy a more relaxing and restful Transappenninica, but always focused on the main topics: Friendship and our will to spend time together, at least once a year, together with our wonderful cars.
Welcome to everybody and see you soon!!
Fabio e Gianluigi