Charleroi, Belgium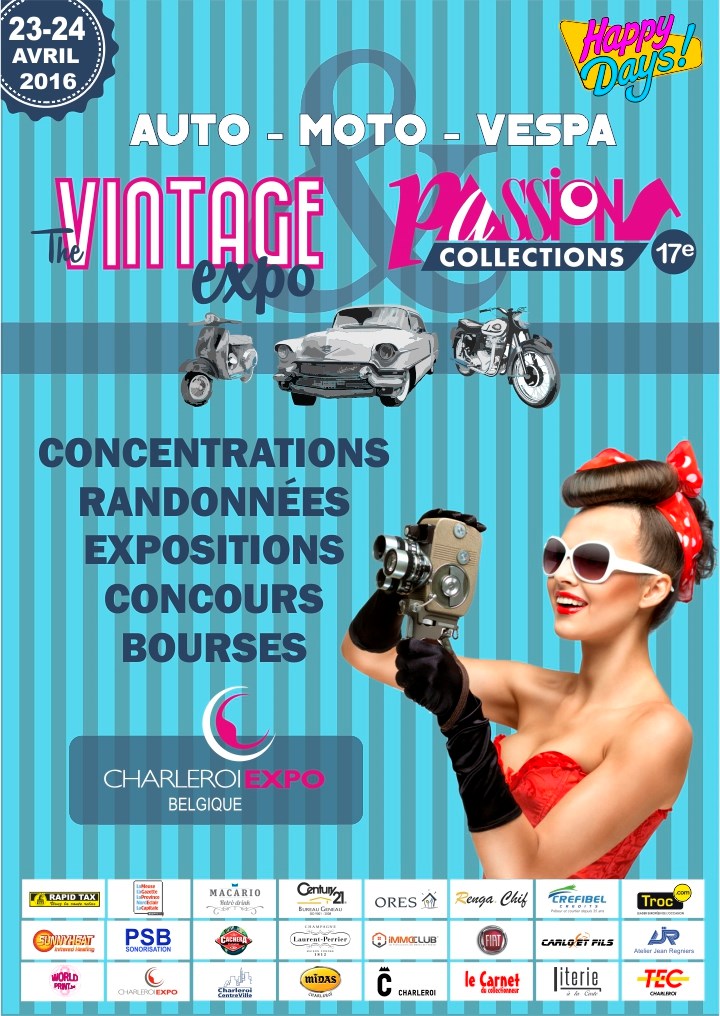 Event Type

Swapmeets/Autojubble

Date

23 April 2016

to

24 April 2016

Location

Belgium Hainaut 6000 Charleroi de l'Ancre

Website

Event organiser

Charleroi Events asbl

Phone

00.32.(0)473.504.111

Email
Sorry, we didn't receive an English translation
The Vintage Expo & Passions Collections 2016
Pour fêter sa 17ème édition Passions Collections " le retour en force " s'associe à The Vintage Expo les 23 et 24 avril 2016 à Charleroi.
The Vintage Expo, c'est exposer, vendre, échanger ou acheter tout ce qui touche au vintage, rétro, néo rétro et l'antiquité avant 1995 :
vinyles, disques, cassettes, audio, hi-fi, juke-box, t-shirts, vêtements, lingeries, lunettes, bijoux, horloges, réveils, affiches, posters, autocollants, publicités, enseignes, décorations, gadgets, livres, BD, luminaires, appareils photos, téléphones, vaisselles, jeux, kickers, flippers, mobiliers, souvenirs, vareuses de sport, accessoires, ...
Passions Collections la 17ème édition " Tout ce qui se collectionne s'y trouve "
l'occasion de retrouver les acharnés des collections de tous types, particuliers, professionnels, clubs et associations diverses, proposant les collections les plus classiques aux plus actuelles.
Sur l'esplanade de la Géode et dans un hall :
exposition de véhicules anciens ( autos - motos - vélos - scooters et Vespa ) stands de Clubs, d'associations, bourse d'échange d'accessoires et de pièces mécaniques.
Sur les parkings de Charleroi Expo :
concentration, exposition et randonnées pour les véhicules anciens ( autos - motos - vélos - scooters et Vespa )
Dans le hall Quartz :
défilé de mode vintage, salon de coiffure et de maquillage rétro, show pin-up, concerts de blues et de rock, soirée dansante des années 70 et 80 ( le samedi à partir de 20h00 ), studio de photo souvenirs avec décor années 50 et 60, spéciale animation en vinyles, sans oublier durant les 2 jours un spécial pour le mythique bistrot discothèque " The Club is Back ".
Un salon international de bourse, d'échange, de vente, de collection, vintage, rétro, néo-rétro ouvert à tous :
• les 23 et 24 avril 2016 de 10h00 à 19h00
• prix d'entrée pour 1 jour : 6 €
• prix d'entrée pour 2 jours 10 €
• prix d'entrée pour groupe par jour : 5 € par 20 personnes
• gratuit pour les moins de 12 ans accompagnés d'un parent
• accès aisés aux personnes à mobilité réduite
• vastes parkings sécurisés : 3600 places
• accès autoroutes et ring de Charleroi à proximité
• aéroport Brussels South Charleroi Airport à 10 min
• nombreux hôtels à proximité
• services TEC Charleroi métro et tram à proximité