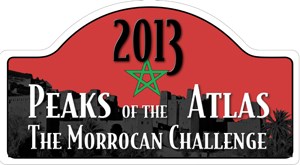 Event Type

Rally, Tour

Date

09 November 2013

to

23 November 2013

Location

Morocco

Website

Email
Sorry, we didn't receive an English translation
The Peaks of the Atlas, The Moroccan Challenge,
Two weeks of relaxing rallying. Not too many kilometres, plenty of time to sniff the spices in the Medina's, plenty of time for a Hamam and plenty of time for a drink at the bar.
We drive along the old trading route from Marrakech to the Sahara. Also called the 1000 Kasbah route after the fortified mud house and towns along the route.
In the High Atlas the roads are superb, the scenery is bewildering. Above all the landscape is constantly changing, changing vegetation, rock formations or just colour.
During the rally Abel Jan Brand will be my assistant. Abel Jan also joined me during the latest reconnaissance trip and has been participating six times to the Via Flaminia. He has thus an extensive knowledge of both Morocco and the rallies organized under my name.
Furthermore Majestic Tours of Rabat will be our partner in Morocco. Majestic will make sure that we will be more than welcome at the different locations.
On Saturday August 31 there will be a get together for all the participants and those who are interested.
We have found a very interesting location for this get together: Joop Stolze's green houses with some 450 classic cars and bikes.
The get together starts at 13:00 h and will be followed by the 10 years Via Flaminia reunion
RSVP before August 20.
Open for pre-war cars. Cars from the fifties on invitation. Only 30 entry positions available,
All-inclusive: assistance by Altena Classic Rally Services, and 12h intervention truck, Bert van den Dool will be making a film for you, Wico Mulder will be making a commemorative photo book. Presence of Medical Doctor, team of Marshalls, insurance included etc etc.. € 7.450, - €.
Shipping by Global Pieter Smit: € 3.650, - € including insurance.