Marrakech, Morocco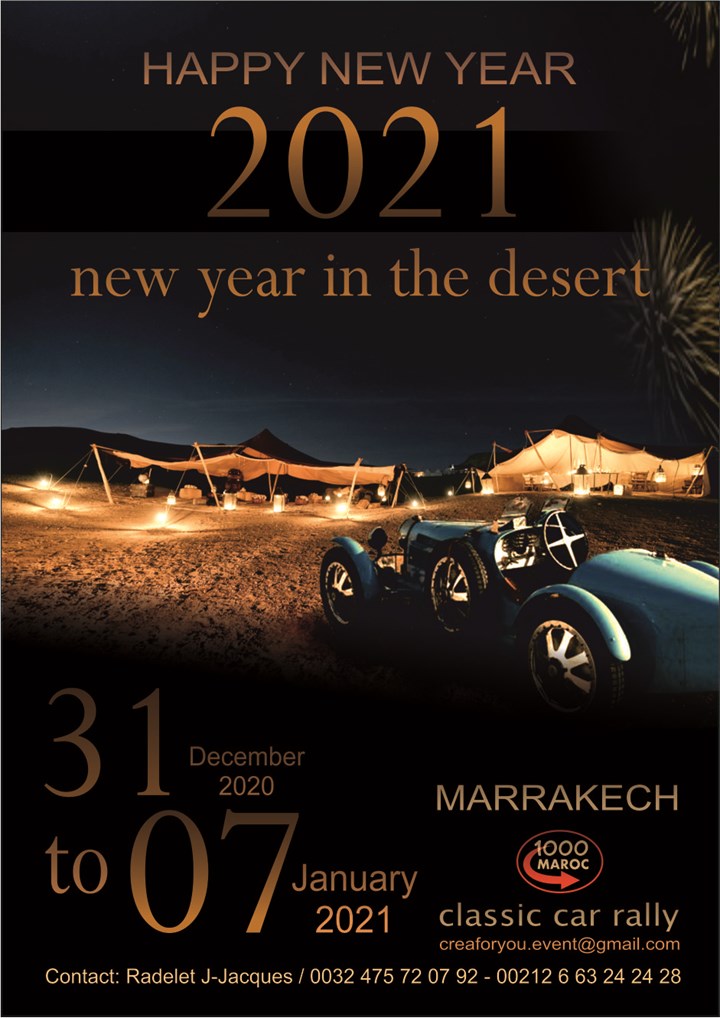 Event Type

Rally, Tour

Date

31 December 2020

to

07 January 2021

Departure location

Morocco Marrakech 40000 Marrakech

Arrival location

Morocco Marrakech

Event organiser

Radelet J-Jacques

Phone

+212663242428

Email
The Mille Maroc Classic Rally Happy New Year is certainly the most awaited event of this end of year!
An international event reserved for classic cars starting from Marrakech during 7 days for 6 stages of 1200 Km.
From December 31, 2020 to January 07, 2021, we propose you a
to spend the New Year in the heart of the Moroccan desert to live a unique and unforgettable experience.

Welcome to MARRAKECH on December 30th, 2020
Transfer to your hotel, SOFITEL *****

What's on the agenda?

The transport of your car, in a closed truck, from Dover, Brussels, Düsseldorf, Munich, Paris, Lyon, Tours, Niort, Marseille, Bordeaux, Nice / Monaco, Luxembourg, Geneva, Milan, or Barcelona to Marrakech and back is included in the commitment fee.

On 30 December; Vehicle reception, Administrative checks, Welcome drink by the swimming pool, Dinner at the hotel and overnight stay.

December 31st: Departure for our walk that will completely change the scenery of Marrakech to reach the Bivouac SCARABEO Camp for the night of New Year's Eve. After a great day of discoveries, meet around a campfire and enjoy a friendly moment in the desert, under the stars of Morocco.

Your New Year's Eve menu will be most original: Champagne cocktail with a gourmet appetizer / Medallion of duck foie gras half-cooked with tonka bean, shallot chutney, rye bread with figs / Scallop shells just snacked, roasted leeks and sweet potato muslin with vanilla / Blue lobster ravioli, salmon caviar pearl cloud of
parmesan, green apple hazelnut slivers with vodka granita / Grilled milk-fed veal from the Limousin, full-bodied juice with truffle, endive tatin with spices and truffled cromesquis / Master cheese maker's platter meignat / New year's delight / Mocha and mignardises. You will then enjoy your New Year's Eve party in a friendly atmosphere, in the middle of the silent desert dunes. A New Year's Eve in the Moroccan desert that promises to be unforgettable, to start the year well.

January 1st: Wake up gently to enjoy breakfast in front of the Atlas Mountains, for this exceptional and relaxing day.

January 02: Rocked by the coolness of the morning you will enjoy an unforgettable sunrise and enjoy your breakfast, it's time to get up the camp we leave to discover the Berber Lands for 5 days for 1100 km.

The itinerary crosses typical villages on winding roads that abound with landscapes as diverse as breathtaking.
At your own pace, you can enjoy a unique experience while being in the atmosphere (Rally)
It's never about speed, but always about lifestyle and passion for cars.

On January 7th, after this return to the roots you will enjoy the Hotel MAMOUNIA in MARRAKECH where we will put down our suitcases, all the crews will meet there for the aperitif and enjoy a friendly moment with their friends.
At 20h00 we invite you to share good moments around a delicious meal.

On January 08th, Breakfast at the hotel and transfer to the airport.

An appointment designed to satisfy lovers of wide open spaces, freedom and nature where the sweetness of life reigns.
An unusual journey to the most beautiful Moroccan landscapes combining desert and mountains, an itinerary with 1000 bends where every moment is appreciated and where there is no room for urgency.

For more information, contact us. Your name* (required). Your first name* (required). Your e-mail* (required). Your phone number* (required).
Contact: [email protected]

Radelet Jean Jacques
Tel: 00212 6 24 24 28 - 0032 475 72 0 92
On behalf of the whole team, we welcome you.




---
About the organizer
The most anticipated rally of this year! An international event reserved for vintage cars. This friendly event is organized by " Creaforyou ", who puts everything in place to ensure that the teams of duos are able to fulfil their passion. Like Marco Polo or Vasco de Gama, it is the blood of an explorer that flows through the veins of our Road-Book creators. So when the call of the sea is heard, they don't have to wait to hear it. These enthusiasts never tire of travelling around Morocco to better share their discoveries with you! Passionate about old cars, unusual landscapes, wide open spaces, gastronomy, I suggest you discover a Morocco that will take you to another world, mystical and enchanting. The experience of a lifetime! MILLE MAROC RALLY is a tourist-oriented rally, a journey of discovery, without any notion of speed and time, in complete relaxation, with the idea of bringing together amateurs and experts for a Road-Trip in our most beautiful regions of Morocco and sharing warm and very friendly moments as a couple or with friends on roads with breathtaking landscapes, in the heart of a preserved nature and at the wheel of mythical cars, in complete safety and without worries. Here the key word is relaxation and friendliness and the aim is to chat with new friends while discovering typical and often unknown places where every moment is appreciated. MONKEY RUN RALLY seeks to revive the concept of Grand Tourism with a philosophy of travel, lifestyle and passion. "The traveller sees what he sees, tourists see what they have come to see "An unusual journey to the most beautiful Moroccan landscapes combining desert and mountains, an itinerary with 1000 bends where every moment is appreciated and where urgency has no place. This event is the auto classic gathering.

Tags: