London, United Kingdom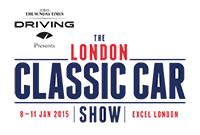 Event Type

Swapmeets/Autojubble

Date

08 January 2015

to

11 January 2015

Location

United Kingdom London

Website
Sorry, we didn't receive an English translation
THE LONDON CLASSIC CAR SHOW 2015
The UK capital has a thriving classic car dealer network, a vast number of classic owners and a first class exhibition centre…but no classic car show.
Brand Events aims to put that right. From 8-11 January 2015, the team behind the hugely successful Top Gear Live and CarFest events will harness its passion, expertise and enthusiasm to create the London Classic Car Show.
The aim is to build an event that will put London back on the classic car map, and rival the top shows in Paris and Essen by bringing together themes that have shaped the motor industry's incredible past.
The London Classic Car Show will gather some of the world's finest classic cars under one roof and bring them to life! One of the show's unique features will be the Grand Avenue, a motoring runway that will allow the star cars to be fired up and driven around the show.
The London Classic Car Show will bring you a dynamic and exciting aspect to an indoor classic car event. Instead of just being able to look, visitors will be able to see, hear and, yes, even smell them!
ExCeL, in London's Docklands, will be packed with some of the most valuable, rare and desirable classic cars in the world, all ready to kick start the New Year with an aural explosion.