wesport, Connecticut, United States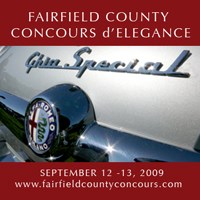 Event Type

Swapmeets/Autojubble

Date

12 September 2009

to

13 September 2009

Location

United States wesport, Connecticut

Website

Event organiser

Axel E. Catton

Phone

+1.203.227.7988

Email
Sorry, we didn't receive an English translation
Fairfield County Concours d'Elegance goes one-up with full two-day event in 2009
01-30-2009
Westport, January 30, 2008. Welcoming more than 5,000 visitors and spectators in 2008, the Fairfield County Concours d'Elegance in Westport, CT, has truly become one of the leading classic car and bike concours in the nation. The 2009 event promises an even bigger scale as it expands to a two-day, on-field programs format, adding a fabulous Classic Car and Bike Celebration for clubs around the nation to its Saturday activities. The Nutmeg Tour for Autism, an over 50-mile tour through picturesque Connecticut, will be longer, bigger and provide more stops for the public, media and participants to mingle, learn and enjoy the classic cars and motorcycles attending.
12 and 13 September 2009
The second weekend in September has been chosen to host more than 200 significant motor vehicles spanning more than100 years at the beautiful Fairfield County Hunt Club in Westport, CT. Located just one hour north-east of New York City, the Fairfield County Concours d'Elegance has attracted more and more visitors and participants nationwide over the last five years.
The Car and Motorcycle Club Celebration
Chairman Bill Scheffler: "We are inviting significant car and motorcycle clubs from around the nation to participate in our celebration on Saturday. Our venue and event will provide an excellent opportunity for car and bike clubs, members and friends to show and use their wheels and attend a magnificent event at the same time. And for this purpose, I guess the closeness to New York City might help as well." While club participation is strictly by invitation only, clubs who wish to participate can contact the Fairfield County Concours d'Elegance at
[email protected]
to apply for their particular club's participation on Saturday, September 12. There will be club lunches available, and members will be able to attend restoration seminars or browse through the extensive automobilia and automotive section on display at the event.
The Nutmeg Tour for Autism
Saturday will also feature the Nutmeg Tour for Autism, a charity-benefit drive with stops at important venues along the way. Scheffler: "Our tour will start earlier this year and feature a lunch stop where the cars will be on display. This will help more people enjoy the hobby, but also double as a rolling invite to attend Sunday's event." The Nutmeg Tour for Autism will benefit AIND/Giant Steps and Hall-Brooke Health Services (a subsidiary of St. Vincent's Health Services).
100 Years of Alfa Romeo
2009 marks the 100th anniversary of the establishment of A.L.F.A., the forerunner of Alfa Romeo,coinciding with the brand's long-awaited return to the United States. The Fairfield County Concours d'Elegance has therefore decided to celebrate this magnificent marque with a special exhibit, featuring rare and important Alfa Romeo models from that century of design and sporting achievement. The event plans to be able not only to display numerous rarely seen models of the brand but to welcome one-off show and concept vehicles as important representatives of the brand's history.
Tribute to Bridgehampton Raceway
One of the many historic racetracks lost to modern development is Long Island's legendary Bridgehampton Raceway. Opened in 1957, it was the heir to a racing tradition on eastern Long Island which started at the dawn of motoring in 1915 with events on Montauk Highway. Bridgehampton, or "The Bridge", quickly became a favorite of talented drivers thanks to its challenging layout and spectacular location. Celebrities rubbed shoulders with international racers at the track, which drew spectator crowds in the tens of thousands. SCCA, Can Am, NASCAR, Trans Am and grand prix motorcycle races held sway at the track and some of the best known cars, 'bikes, drivers and riders made history there. This special exhibit will contain vehicles and artifacts, bringing this now-gone venue back to brilliant life, if only for a day.
The charities
The Fairfield County Concours d'Elegance features programs tailored to benefit AIND/Giant Steps School, Southport, CT, and Hall-Brooke Behavioral Health Services (a subsidiary of St. Vincent's Health Services) in Westport, CT. AIND/Giant Steps School and Hall-Brooke Behavioral Health Services are working together to develop services for the evaluation and treatment of individuals with Autism Spectrum Disorders. Community Partners are The Rotary Club of Westport, CT, Westport Historical Society, Westport Arts Center and Circle of Care.
About the Fairfield County Concours d'Elegance
The Fairfield County Concours d'Elegance in Westport, Connecticut, is one of the leading events of its kind in the United States. It presents 100 years of significant motor vehicles in a chrono-logical display and highlights notable examples of automotive history in special exhibitions and classes. It attracts important entries from some of the country's leading collectors and gives its guests an educational and truly engaging visitor experience. In 2009, the event has expanded to a full weekend of on-field activities with an extended classic car tour and extensive club meet on Saturday as well as the established Concours on Sunday.
Media contact:
Automotive PR of America
Axel E. Catton
Tel (201) 845-5481
mailto:
[email protected]
or
Marianne Frisch
Tel (203) 221-7883
mailto:
[email protected]